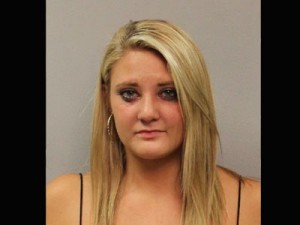 The middle child of Alan Jackson's three daughters, 20-year-old Alexandra "Ali" Jackson, was arrested yesterday morning (Wednesday, August 28th) in Nashville and charged with assault, resisting arrest and underage drinking. Ali was the passenger in a Range Rover that was pulled over around 2:30 a.m. CT.
According to The Tennessean, police immediately could tell that Ali had "consumed a large amount of alcohol." They tried to talk to her, after which she became angry and exited the vehicle. According to police reports, Ali made angry demands and hit the officer in the chest. She also resisted when the officer tried to handcuff her and put her in the patrol car.
Police maintain that Ali told them her father would get her out of this situation because he "would do anything she wanted him to."
Ali was released on $35,000 bond and given a court date of September 23rd.
Earlier that night, Alan played a sold-out show at a club near downtown Nashville.
Alan's publicist said the singer has no comment on the arrest.