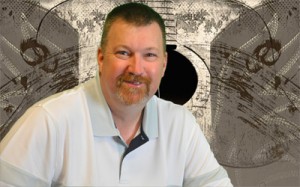 Join Bill weekdays from 7p-Midnight!
Bill:
About me: Born and raised back east in southeastern Pennsylvania (in and around Amish country).  That explains why, to this day, I remain a huge Phillies fan, although I do follow the Royals.  It also explains my fondness for cheesesteaks, soft pretzels, and Tastykakes.  Seeing horse-pulled buggies on a daily basis is really neat…following one going two miles an hour (they have speedometers) when you're late for work…not so much.  Anyway, after high school worked a few different jobs, but nothing caught my fancy as a possible career.  So, one day I picked up the phone book, found the number for US Army Recruiting, and then spent six plus years wearing camoflage for Uncle Sam…four of which were lived over in Germany (I could tell you some amazing stories…most of which involve the phrase "en grosse bier bitte"!).  Anyway, when I got out of the Army (ETS'd to all you non-civies), I decided that I really liked it here in northeast Kansas, so I stayed.  Started my radio career over in Junction City…and now, here I am in Manhattan…on-air here at B1047 since 1998 (wow that's a lot of years!)  What a cool job!  Seriously, I get PAID to do this for a living!  I also go to most of the K-State football games (I roadtrip as part of the crew for Powercat Gameday).  Oh, and I'm the Traffic Director here at Manattan Broadcasting since last May…that means I'll schedule the commercials, and unfortunately has nothing at all to do with a helicopter.  When I'm not here at the station, I like to travel.  I play a little golf…but not very well.  I love my job…and I enjoy meeting you out at station events and remotes.
Top 5 albums:
Garth Brooks "No Fences", Alan Jackson "Under The Influence", Alabama "Mountain Music", Tim McGraw "Everywhere", and anything by George Strait
Top 5 movies:
"Caddyshack", "Road Trip", "Private Parts", "Major League", "Fast Times At Ridgemont High".
First album you owned:
Garth Brooks "No Fences"
Favorite artist:
Brad Paisley
If you weren't a DJ, what would your dream job be?
The guy who holds the cord for Coach Snyder's headset…'cause he hears it ALL! 
If you could hang out with one famous dead person, who?
Elvis…that is if he's really dead.

The latest! December 2nd
Well, it wasn't pretty at times, but the end result is exactly what K-State Nation wanted it to be: another beatdown of the beaks.
For the 5th straight year, the Wildcats are presented the Governor's Cup after winning the Dillons Sunflower Showdown 31-10 on Saturday. Memorial Stadium was only about 85% full…and those who showed up were split pretty evenly between KSU and KU fans. Of course, those NOT wearing purple had pretty much disappeared by the start of the 4th quarter, once everyone knew that the outcome was no longer in doubt.
On a day when the spotlight was intended to be on the beaks seniors, it was K-State's John Hubert who stole the show, rushing for 220 yards on just 30 carries. Let me do the math for you; that's better than 7 yards a tote. And the Cat defense, still playing without safety Ty Zimmerman, held the squawks to 223 yards and forced six turnovers.
So, K-State wraps up their 2013 campaign at 7-5 and now waits to find out it's bowl destination. In all likelyhood, Wildcat Nation will be invading southern California…San Diego to be specific…for a matchup with a PAC-12 foe in the National University Holiday Bowl on December 30th. There is an outside shot at the Buffalo Wild Wings Bowl in Tempe, AZ on December 28th…but I'm thinking those folks would be wary of choosing the Wildcats, knowing that K-State was in Arizona 11 months ago.
A pretty good weekend for the purple continued with the VolleyCats upset sweep of Iowa State. K-State finished the year 18-11, but fell just short of another trip to the NCAA tournament. Still, you gotta like the fight in these Wildcats…and a nice crowd of more than 2,100 of you showed up to cheer them on for Senior Night.
Onward we go…believe it or not it's December! And while the weather today might not feel winter-like, colder temps are on the way later this week. But now that it's December, it's time once again for the hunt…for the G. Thomas Jewelers/Manhattan Running Company Jingle Bell Rock. We've once again hidden the rock on public property in plain sight. Every weekday morning, we'll read you a new clue. Find the rock and return it to us…and we will hook you up with a cash and prize bounty worth a few thousand bucks.
And be sure to pick up your "hunting tag"…we'll have a different location each day for you to do so. If you have a hunting tag and you're the one who finds the rock, we'll double the cash part of the prize. It's easy money…made easier!
Disappointed at last night's Amazing Race…I finally thought I'd get to see the "Garanimals" go home…only to hear that it was another non-elimination leg. How so fortunate! While I'm looking forward to this Sunday's season finale…I will lose my mind if those 2 idiots end up winning.
How about that Iron Bowl finish? Seriously, how many times has a football game at any level ended on a returned missed field goal? Wish I could've watched it on a bigger screen…and heard the call…but that wasn't meant to be. Which brings me to…
…a bit of a rant. People ask me all the time why I hate KU so much. I've always thought the answer was obvious…they're obnoxious fans, the way that their basketball team is protected by the zebras. Well, add a couple more reasons to the list.
After the game on Saturday, when we were almost done with postgame, I went to get the K-Rock truck from the parking garage, and brought it in to the stadium to load our equipment. We go back up to the press level to make a final check, come back down, and the buttholes have locked us in. Fortunately we found someone from Sports Information who had a key and was able to let us out. Seriously…you didn't see the LARGE YELLOW QUADCAB sitting outside the elevator banks??
Then, we head back to Wayne & Larry's for dinner. They have the Bama-Auburn game on all the big screens…up until the final minutes, when they inexplicably switch over to KU basketball, shunting the Iron Bowl to a couple small TV's and we lose the audio too.
Although the trip to beakville wasn't all bad…did get to ride down in the elevator with Senator Pat Roberts, President Schultz, and John Currie. Not to mention the fact that I got to see another in a long line of pluckings!
Wintry weather headed our way later this week…be sure to stay tuned to Hot Country B1047 for all the latest forecasts. And just think how much warmer it'll be in San Diego!!
Have a great week!