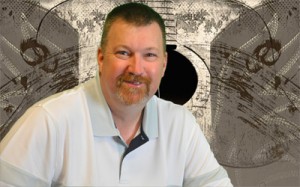 Catch Bill weekdays from 7p-Midnight!
Bill:
About me…been on-air at B1047 since 1998.  When I'm not here at the station, I like to travel.  I play a little golf…but not very well.  I love my job…and I enjoy meeting you out at station events and remotes.
Top 5 albums:
Garth Brooks "No Fences", Alan Jackson "Under The Influence", Alabama "Mountain Music", Tim McGraw "Everywhere", and anything by George Strait
Top 5 movies:
"Caddyshack", "Road Trip", "Private Parts", "Major League", "Fast Times At Ridgemont High".
First album you owned:
Garth Brooks "No Fences"
Favorite artist:
Brad Paisley
If you weren't a DJ, what would your dream job be?
The guy who holds the cord for Coach Snyder's headset…'cause he hears it ALL! 
If you could hang out with one famous dead person, who?
Elvis 
The latest! May 16: "Pomp and Circumstance" will be filling the air this weekend…congratulations to the Class of 2013!  After all those years of hard work…you made it!  Here's wishing you all the very best as you head down your chosen path.
This is also a huge weekend for Brad Hill's Wildcats, as they host Oklahoma in the final regular season matchup.  The Cats hold a 2-game conference lead over both OU and West Virginia…they'll claim at least a share of the title with their first win of the weekend.  With a second victory…well…then K-State wins the Big 12 outright.  Either way, that third conference trophy will look great next to the hardware from the football and men's basketball titles.  We may have to change the nickname of Manhattan from "the Little Apple" to "Titletown"!
Hope you all make it out to Tointon Family Stadium for the action…Friday night's game starts at 6:30 and it's "moustache night"…the 1st 1000 fans get a free moustache!  The Cats will celebrate "Senior Night" on Saturday with another 6:30 first pitch, and Sunday's "Family Day" starts at 1pm.  Call 800-221-CATS, or go online to kstatesports.com for tickets and more info.  Good luck to the Cats!
Hope you all had a chance to sample "Maple Macadamia Mashup"…the new ice cream flavor at Walgreen's.  It was the brainchild of Celebrity Apprentice semi-finalist Trace Adkins.  Hope he can win this season…although Penn Jillette is certainly tough competition.  Team Trace!!
And speaking of tasty treats…have you tried the new Frosty Waffle Cone at Wendy's?  It your favorite flavor of Frosty, chocolate or vanilla, in a delicious waffle cone.  Get yours today at your neighborhood Wendys!  Now THAT'S better!