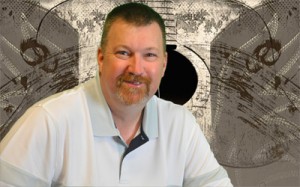 Join Bill weekdays from 7p-Midnight!
Bill:
About me: Born and raised back east in southeastern Pennsylvania (in and around Amish country).  That explains why, to this day, I remain a huge Phillies fan, although I do follow the Royals.  It also explains my fondness for cheesesteaks, soft pretzels, and Tastykakes.  Seeing horse-pulled buggies on a daily basis is really neat…following one going two miles an hour (they have speedometers) when you're late for work…not so much.  Anyway, after high school worked a few different jobs, but nothing caught my fancy as a possible career.  So, one day I picked up the phone book, found the number for US Army Recruiting, and then spent six plus years wearing camoflage for Uncle Sam…four of which were lived over in Germany (I could tell you some amazing stories…most of which involve the phrase "en grosse bier bitte"!).  Anyway, when I got out of the Army (ETS'd to all you non-civies), I decided that I really liked it here in northeast Kansas, so I stayed.  Started my radio career over in Junction City…and now, here I am in Manhattan…on-air here at B1047 since 1998 (wow that's a lot of years!)  What a cool job!  Seriously, I get PAID to do this for a living!  I also go to most of the K-State football games (I roadtrip as part of the crew for Powercat Gameday).  Oh, and I'm the Traffic Director here at Manattan Broadcasting since last May…that means I'll schedule the commercials, and unfortunately has nothing at all to do with a helicopter.  When I'm not here at the station, I like to travel.  I play a little golf…but not very well.  I love my job…and I enjoy meeting you out at station events and remotes.
Top 5 albums:
Garth Brooks "No Fences", Alan Jackson "Under The Influence", Alabama "Mountain Music", Tim McGraw "Everywhere", and anything by George Strait
Top 5 movies:
"Caddyshack", "Road Trip", "Private Parts", "Major League", "Fast Times At Ridgemont High".
First album you owned:
Garth Brooks "No Fences"
Favorite artist:
Brad Paisley
If you weren't a DJ, what would your dream job be?
The guy who holds the cord for Coach Snyder's headset…'cause he hears it ALL! 
If you could hang out with one famous dead person, who?
Elvis…that is if he's really dead.

The latest! September 28th: Drilled!
Well, that's certainly one way to work out your frustration…humiliate your next opponent.
I mean, completely and totally dominate them.
The Cats shook off a slow start on Saturday (which could be attributed to that early 6am kickoff) and got an outstanding performance from the defense for the second straight week in a 58-28 pasting of the UTEP Miners.
How dominant was the "D"? UTEP came in as one of the top rushing teams in college football. They managed nine yards…that's right, NINE yards, on the ground in the first half. Add to that only one first down through halftime, and that's what I'm talking about when I talk about a complete shutdown.
"But they scored 28 points", you say. Yep…long after the game's outcome was decided, and while the field was populated with second-stringers, only after it was 52-7 Wildcats did the Miners finally break 100 yards of offense and find the endzone. Garbage-time touchdowns…nothing more.
So, K-State is now 3-1 and welcomes Texas Tech to town this coming Saturday. It'll be an evening affair, with kickoff at 6pm. Not that I don't really enjoy those pre-dawn Powercat Gameday set-ups (did you note the sarcasm?)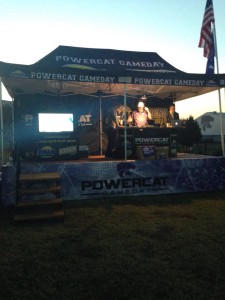 Hard to believe that we're almost halfway through the high school football regular season…just over a month away from the State playoffs. Even harder to believe that this is my last year of running those games for B104.
Have a great week…come out and see us in Cat Town this Saturday. It's free to enter, open to the public, and we'll be giving out those nifty "Tailgate Towels" courtesy of CTI John Deere again this week.
Comments
comments