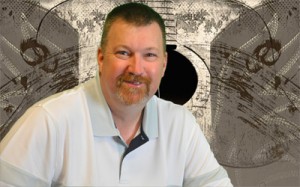 Join Bill weekdays from 7p-Midnight!
Bill:
About me: Born and raised back east in southeastern Pennsylvania (in and around Amish country).  That explains why, to this day, I remain a huge Phillies fan, although I do follow the Royals.  It also explains my fondness for cheesesteaks, soft pretzels, and Tastykakes.  Seeing horse-pulled buggies on a daily basis is really neat…following one going two miles an hour (they have speedometers) when you're late for work…not so much.  Anyway, after high school worked a few different jobs, but nothing caught my fancy as a possible career.  So, one day I picked up the phone book, found the number for US Army Recruiting, and then spent six plus years wearing camoflage for Uncle Sam…four of which were lived over in Germany (I could tell you some amazing stories…most of which involve the phrase "en grosse bier bitte"!).  Anyway, when I got out of the Army (ETS'd to all you non-civies), I decided that I really liked it here in northeast Kansas, so I stayed.  Started my radio career over in Junction City…and now, here I am in Manhattan…on-air here at B1047 since 1998 (wow that's a lot of years!)  What a cool job!  Seriously, I get PAID to do this for a living!  I also go to most of the K-State football games (I roadtrip as part of the crew for Powercat Gameday).  Oh, and I'm the Traffic Director here at Manattan Broadcasting since last May…that means I'll schedule the commercials, and unfortunately has nothing at all to do with a helicopter.  When I'm not here at the station, I like to travel.  I play a little golf…but not very well.  I love my job…and I enjoy meeting you out at station events and remotes.
Top 5 albums:
Garth Brooks "No Fences", Alan Jackson "Under The Influence", Alabama "Mountain Music", Tim McGraw "Everywhere", and anything by George Strait
Top 5 movies:
"Caddyshack", "Road Trip", "Private Parts", "Major League", "Fast Times At Ridgemont High".
First album you owned:
Garth Brooks "No Fences"
Favorite artist:
Brad Paisley
If you weren't a DJ, what would your dream job be?
The guy who holds the cord for Coach Snyder's headset…'cause he hears it ALL! 
If you could hang out with one famous dead person, who?
Elvis…that is if he's really dead.

The latest! October 27th: Horns down!
I've said it before…I'll say it again: it's always nice to beat Texas. Face it, their arrogance…that sense of entitlement…almost brought an end to the Big 12 conference.
But to shut them out? Now we're talking!
K-State wasn't an offensive juggernaut, but then again, they didn't need to be. The Wildcat defense was a stone wall, holding Bevo to less than 200 yards and keeping them out of the end zone in a 23-0 victory. With the win, the Cats are 6-1, and sit alone atop the conference standings at 4-0.
And those "we own Texas" chants? Well, the Wildcats are 8-3 against Texas, and have won 6 of the last 7…so I'd say that chant was pretty accurate.
After what seems like a string of non-stop morning contests, Wildcat Nation (and yours truly) get a chance to sleep in this Saturday as the Cats host the Pokes in an evening game; kickoff is at 7pm on ABC. That means an afternoon set-up for Powercat Gameday, which goes on the air LIVE from Cat Town at 3pm. Be sure to stop by and pick up your FREE purple Tailgate Towel, courtesy of CTI John Deere.
And what a big game tonight down at Kauffman Stadium? Game seven of the World Series…winner take all…Royals and San Fran. And while I'm obviously hoping KC gets it done tonight, I've got to say that…win or lose it's been an incredible ride from this 2014 Royals team that is just a blast to watch play.
Go STATE! Go ROYALS! #TaketheCrown!
Comments
comments