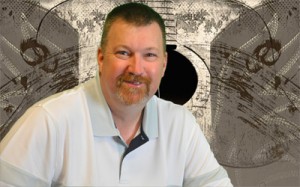 Join Bill weekdays from 7p-Midnight!
Bill:
About me: Born and raised back east in southeastern Pennsylvania (in and around Amish country).  That explains why, to this day, I remain a huge Phillies fan, although I do follow the Royals.  It also explains my fondness for cheesesteaks, soft pretzels, and Tastykakes.  Seeing horse-pulled buggies on a daily basis is really neat…following one going two miles an hour (they have speedometers) when you're late for work…not so much.  Anyway, after high school worked a few different jobs, but nothing caught my fancy as a possible career.  So, one day I picked up the phone book, found the number for US Army Recruiting, and then spent six plus years wearing camoflage for Uncle Sam…four of which were lived over in Germany (I could tell you some amazing stories…most of which involve the phrase "en grosse bier bitte"!).  Anyway, when I got out of the Army (ETS'd to all you non-civies), I decided that I really liked it here in northeast Kansas, so I stayed.  Started my radio career over in Junction City…and now, here I am in Manhattan…on-air here at B1047 since 1998 (wow that's a lot of years!)  What a cool job!  Seriously, I get PAID to do this for a living!  I also go to most of the K-State football games (I roadtrip as part of the crew for Powercat Gameday).  Oh, and I'm the Traffic Director here at Manattan Broadcasting since last May…that means I'll schedule the commercials, and unfortunately has nothing at all to do with a helicopter.  When I'm not here at the station, I like to travel.  I play a little golf…but not very well.  I love my job…and I enjoy meeting you out at station events and remotes.
Top 5 albums:
Garth Brooks "No Fences", Alan Jackson "Under The Influence", Alabama "Mountain Music", Tim McGraw "Everywhere", and anything by George Strait
Top 5 movies:
"Caddyshack", "Road Trip", "Private Parts", "Major League", "Fast Times At Ridgemont High".
First album you owned:
Garth Brooks "No Fences"
Favorite artist:
Brad Paisley
If you weren't a DJ, what would your dream job be?
The guy who holds the cord for Coach Snyder's headset…'cause he hears it ALL! 
If you could hang out with one famous dead person, who?
Elvis…that is if he's really dead.

The latest! November 16th: The end of the line
As the saying goes…all good things must come to an end.  Every chapter, even in the best book you've ever read, has a beginning…and an end.  Otherwise, you could never move on to the next chapter.
And so my time on B1047 will be ending.  I let Carly know last Monday that it's time to step away in the next few weeks.  After 16 plus years on the air here…it's almost time to sign off one last time.
This was in no way an easy decision.  I love…and still do…broadcasting.  It has been a wonderful part of my life for nearly two decades, and I'll miss it like crazy.  But working nights?  As in every weeknight since 1998?  Honestly, that's worn out it's welcome.
Earlier this year, when Emily left, I had hoped to move into the afternoon slot…or maybe even the mid-day.  Heck, I was in the GM's office before the ink on Emily's resignation had dried!  I was certain that I'd be "movin' on up"…which in radio parlance means getting a more visible daypart.  Nights are good, but afternoon drive…or even mid-days is better!
Unfortunately, it wasn't meant to be.  I spent weeks agonizing over the decision: staying on the air even if it meant putting in the long days (I'm also the Traffic Director here at Manhattan Broadcasting full-time during the day), or walk away from a huge part of who I am.  Even after I made the decision…I sat on it for nearly a month; just to make sure I was comfortable with it.  And last weekend, driving back from Fort Worth (while Corey, John, and Matt napped), I realized that I was ok to pull the trigger.
At this point, there's no set "last broadcast" scheduled.  I told Carly I'd work with her while they find a replacement…at least through the holidays.  Once something has been set in stone, I'll pass it on.
I want to thank all of you for allowing me to spend time with you from 7p-midnight for the last 16 years…and I hope you'll continue to make B1047 your favorite station.  Thanks to Larry Lay for giving me my first on-air opportunity over at KJCK…and to Dustin Ebaugh (aka Junior Barnes) for not getting aggravated by all my follow-up calls and hiring me here in September 1998.  I've had the privelidge of working with some awesome people…and as much as I'd like to name each and every one of them here, I don't think I'm allowed that many characters!  But I do have to say a special thank you to: Bri, Drew, Krista, Juice, Kinzie, Aaron, Lindsay (aka Scoop), Elise, Andrew, Kelsey, Ronnie, and Austin…just some of the wonderful people I've come in contact with over this 16 year ride.
Thank you to all of those clients who had me out to do live remotes…places like Sunset Zoo, K-State Volleyball, Furniture Warehouse…and I can't forget my Stampede friends: Wayne, Laurie, Sandy, Sheila, Gil and Liz…wow, I've got quite a list!
Let's be honest…sometimes this job has it's dark times.  When Mother Nature gets cranky and throws us severe thunderstorms at 11:00pm, or gets REALLY nasty like she did in 2008…you're looking for a reliable source of up-to-date information from someone you can trust.  We're all so very glad that we've earned that trust.
Fact of the matter is…I'm going to miss being on air.  The good…the not so good…and the downright horrible.  I'm certain that I'll be thinking from time to time that I need to be back on air…when something is part of who you are for a decade and a half, you're gonna miss it.  But the ride ends just a surely as it starts…and for me, my ride is over.
I need to say a very big "Thank You", to each and every one of YOU!  You've tuned in and allowed me to be a part of your evening.  And I could never truly show my level of gratitude.  I get asked a lot what the best part of my job is.  People sometimes assume it's getting to go backstage at concerts and meet the artists.  Others believe it's the magic of sitting on a chair, pushing a button, and talking to you all over the air.  Or maybe it's road-tripping with Powercat Gameday and sitting in the press box.
All those are nice…and some of it will continue.  But the fact of the matter is, when one of you emails me, or calls the station to say thanks for playing a request, or just being there after a long or difficult day…that certainly puts a smile on my face.  And I'll have 16 years worth of those smiles to bank for my own future rainy days.
Thank you for letting me be a part of your life.  And thank you for being a huge part of mine.
Comments
comments