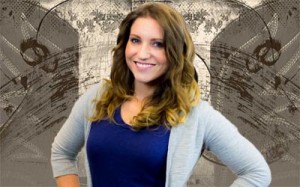 Spend your work day with Carly Evans! Weekdays 10am-3pm.
Carly:
Hi! I'm Carly, transplant from Hays, 'Merica, born and raised. I've always been a huge talker and love music, sooo radio was pretty well a natural progression for me. I started radio in Hays right out of High School, worked my way up the ladder through college and fell in love with Country Music, especially Red Dirt and Texas Country. I was fortunate to find an amazing opportunity with B104.7, made the move to Manhattan and here I am! Live music is my biggest passion and thankfully, this area has plenty of that coming through. When I'm not focusing on music (which is rare) I love reading and being outdoors, especially in the summer. I'm a total lake and camping girl and try to squeeze that in as much as possible. I'm also somewhat sarcastic and have a huge love of coffee, wine, and chocolate.
Top 5 albums:
Anything Wade Bowen, especially Lost Hotel and The Given
Logan Mize-Nobody In Nashville
The Damn Quails-Down the Hatch
Abra Moore-Strangest Places (totally not Country, but I absolutely love it, especially her song, "Four Leaf Clover")
The Great Divide-Afterglow
Top 5 movies:
Pretty Woman/Runaway Bride
What Dreams May Come
Under The Tuscan Sun
Tombstone/Crazy Heart
Ted
First album you owned:
Will Smith-Big Willie Style (I still know all the words)
Favorite artist:
Music is so expansive and there are so many amazing artists out there, I can never pick just one. It usually depends on what mood I'm in, what artists are coming to town or what new music I just got my hands on.
If you weren't a DJ, what would your dream job be?
Anything else that would combine my love of talking and the music industry…or at least something close to a beach.
If you could hang out with one famous dead person, who?
Lucille Ball
Comments
comments