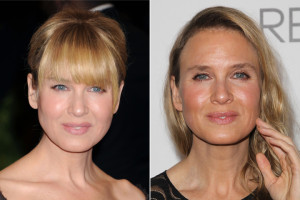 After flying under the radar for a few years, Renee Zellwegerwas photographed on the red carpet in Los Angeles on Monday night, and people are flipping out over her face.
One cosmetic surgeon who has never treated Renee said he believes she may have had an upper eye lift because the distance between the brow and her eye is much smaller than before.
He also said her super-smooth forehead could be from Botox, and she may have had non-surgical treatments such as a medical facial and ultrasound therapy for her skin.
Or maybe she's just (gasp!) getting older?  She is 45 after all.
Read more here!