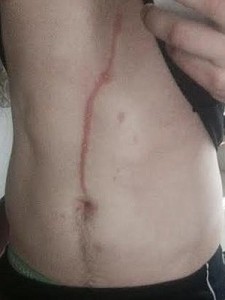 A tropical spider burrowed into the skin of an Australian man and stayed there for three days before doctors finally figured out what was causing the nasty marks on his chest.
Dylan Thomas woke up Saturday morning with a red scar about 2 inches long extending up from his naval. That night, it was 3 inches longer. He went to the doctors on Sunday and was given a cream to deal with what was believed to be an insect bite. It didn't help, and painful red blisters came next.
On Monday, doctors called in a dermatologist, who finally figured out what was happening and plucked the spider from his skin.
Spider victim explains, "It wasn't really a tickling sensation, obviously once the venom started to affect my skin it was a really burning sensation like a searing feeling".
The best guess is that the spider got inside his skin via a scar from a recent appendectomy.
Health authorities are testing the spider to figure out what kind it was.
Read more here!