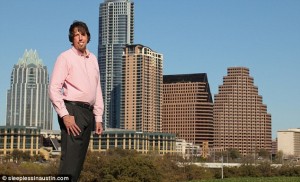 A Georgia man who works in Austin, Texas has created a website called SleeplessinAustin.com to help him find the perfect woman.
The 39-year-old man is looking for a woman who is under 130 pounds, has long red hair, no tattoos, a non-sarcastic sense of humor and a conservative sense of style.
He created the website because it was impossible to find love working two jobs in New York City. He said he will never date a black girl, even if she looks like Halle Berry. He is fine with women who are other races but NO kids, because it gives them stretchmarks.
He also said he will not date a stripper, a smoker, gamblers, any women who want kids, women who wear glasses, and women who talk with their exes.
The guy said he will give $1,500 to anyone who can help him find a woman who has all the traits he is looking for– and another $1,000 if he marries her.
SleeplessinAustin.com
Read more Here