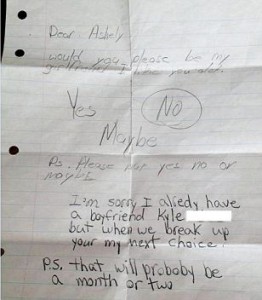 A schoolboy's love letter has gone viral after he received a hilarious response from his girl crush.
The little boy's letter was posted to Reddit and it begins: 'Dear Ashley – would you please be my girlfriend, I like you a lot.'
He then gave her three options -  'yes, no and maybe' - with an instruction to pick one.
The girl, named Ashley, circled 'no' and informed him that she already has a boyfriend called Kyle.
Ashley explained that when she breaks up with Kyle, the letter-writer is her next choice, adding, 'P.S. that will proboby [sic] be a month or two.'
The elementary school love letter has been an instant hit online, receiving more than 1.25 million views so far.