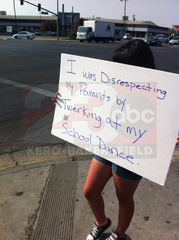 A 7th grader was forced by her parents to hold a sign in public after they found out she was "twerking" at a Jr. High School dance in California.
The mother of the girl made her daughter hold a sign on a busy street corner that read, "I was disrespecting my parents by twerking at my school dance."
The school doesn't outlaw the dancing style, but her mother did.
The dance has become very popular after Miley Cyrus did it at the MTV Video Music Awards.
Read More here.