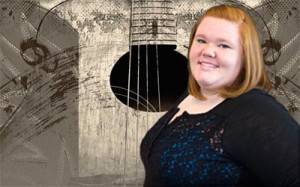 Heidi:
About me:
I'm the baby of B and hail from a small town that has the worlds largest replica of a Van Gogh painting. I started work in radio at the ripe old age of 14, running boards for high school sports. I'm now in Manhattan, loving life, drinking too much whiskey and trying to prove to my parents that I love music just as much as any other kid born in the 90's! I'm an avid concert goer when I'm not working but I also enjoy long walks on the beach, romantic candle-lit dinners…oh, wait…wrong website. I like to consider myself the queen of doing anything that doesn't involve going outside because the sun is my mortal enemy (check the red hair and fair skin). Otherwise, I like to spend majority of my time laughing!
Top 5 albums:
Johnny Cash "American IV: The Man Comes Around"
Dixie Chicks "Fly"
Shania Twain "Up!"
Cassadee Pope "Frame by Frame"
Sam Hunt "Montevallo"
Top 5 movies:
1. Wayne's World
2. Back To The Future
3. Jennifer's Body
4. Repo! The Genetic Opera
5. Mean Girls (I was born in the 90's! This is a required answer!)
First album you owned:
Shania Twain's Come On Over – I played my mom's copy of it so much that it stopped working, so she decided to just get me my own copy. Wise choice, mom, wise choice!
Favorite artist:
Cassadee Pope
If you weren't a DJ, what would your dream job be?
Probably a music producer or owning/managing a concert venue!
If you could hang out with one famous dead person, who?
John Lennon
Comments
comments