The G. Thomas Jewelers, Manhattan Running Company Jingle Bell Rock has been found!
The rock was hidden under a pine tree off of the paved public walking path by the Rocky Ford fishing area. Congrats to Levi and Allison Teeter, the brother and sister team who found the Jingle Bell Rock.  They've been searching for it since they were kids!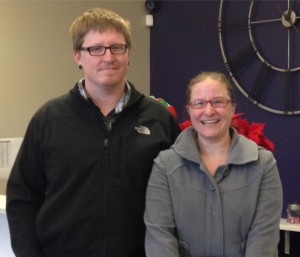 Here's how the clues got them there:
Clues:
Clue #1 – Monday 12/1
The countdown is complete, the final tick and tock.
Again it begins, the hunt for the Jingle Bell Rock.
You may be an old search hand, or new to our holiday ride.
Either jingle bell way, keep your searching outside.
These clues just explain the rules.  No location information.
Clue #2 – Tuesday 12/2
With clues off and running, we set the rules of the game,
Find the Jingle Bell Rock, and your Christmas will never be the same.
Assemble the clues and start looking around,
Just make sure you're keeping that search on public ground.
These clues just explain the rules.  No location information.
Clue #3 – Wednesday 12/3
Today we finish the rules, and from here it's all surprises,
Each daily clue is one of the Rock's many disguises.
Just one more holiday rule for you and yours to manage,
Be kind in your search, you're disqualified if you do any damage.
These clues just explain the rules.  No location information.
Clue #4 – Thursday 12/4
The Jingle Bell Rock is an amazing thing to watch.
So rare though to see, like a Flint Hills Sasquatch.
Let's keep the clues then in the form of mythical beast,
Beware marching dragons and keep to the east.
Marching Dragons to the East refers to the Dragon Brigade on Fort Riley. Clue advises to stay east of them.
Clue #5 – Friday 12/5
And thus we end Jingle Bell week number one,
Like a factory of elves all packed full of fun.
The hunt is a marathon not a search to be rushed,
As you run to the morning, stop before you're flushed.
Running to the morning or sunrise and stop before you're flushed sets a search boundary of Flush Road to the east.
Clue #6 – Monday 12/8
It was a crazy weekend full of announcing of bowls,
The successful result of meeting Snyder's goals.
So Texas it is and the Cats are ready to go,
For your search though, I wouldn't cross El Paso.
Clue sets a southern boundary of El Paso Lane in Manhattan
Clue #7 – Tuesday 12/9
Will clue number 7 be bring you Jingle Bell luck?
Or do the clues have you Jingle Bell stuck?
Before you fret and get some holiday blues,
Remember finding the rock isn't just mind, it's shoes.
 Not just mind, it's shoes is the first reference to walking.  The rock was along a walking path.
Clue #8 – Wednesday 12/10
So let's narrow your searching again by moving you east,
With a smaller area to search your chances increase.
So then let's not start at just at place that flys,
but even further, a drive that's easy on the eyes.
Drive easy on the eyes is a reference to Scenic Drive.  It sets it as the new western boundary.
Clue #9 – Thursday 12/11
And now we arrive here at December eleven,
We talked about shoes and thus walking in clue number 7.
If thoughts of hiding places our clues are now sparking,
Feel free to stop and rest, there will be ample parking.
"Ample Parking" is a double reference in this clue.  It its the first mention of a park, as well as that there is a parking lot at Rocky Ford where you can access the walking path.
Clue #10 – Friday 12/12
Good old St. Nick is preparing his Jingle Bell sleigh,
Ready to call out the names and get right on his way.
He's sure to make no commands that are misleading,
That could almost cause the reindeer to go stampeding.
STAMPEDING! Lots of people knew this got them close to the lake.  The key though was "almost"…it was near the lake, but not at the campgrounds.  Gets you closer yet again to the location.

Clue #11 – Monday 12/15
And so it begins, search week number three,
Finding this the rock isn't so easy you see.
Each day a new adventure and new place to snoop,
It could be on purpose that Santa threw you for a loop.
The key to this clue is "Loop".  One end of the walking path is a concrete loop that sends you back to the parking lot. 
Clue #12 – Tuesday 12/16
As we add up the clues, this one is the twelfth,
The rock is still hiding like a sly little elf.
To take make your final search a little more swift,
Take a look under the place you'd find a Christmas gift.
Under a place you'd find a Christmas gift is obviously a reference to a Christmas Tree.  The rock was sitting right under a small pine tree just off of the walking path about half way between the parking lot and the loop.
Good luck next year! 
Thanks to all our sponsors!
Varney's, The Fridge Wholesale Liquor, Manhattan Town Center, BD4 Distributing, Bear Computers, Able Printing, Film at 11, Flint Hills Powersports, The Vape Bar, Briggs Auto Lane, Sports Clips, Glenn's Music, Radio Shack in Manhattan, Avalon Hair and Nail Salon, NAPA Auto Parts in Manhattan, Sapp Brothers, Bellus Academy, Gambinos Pizza, Revolution Auto Works, Godfrey's Indoor Shooting and Archery Ranges, Gallery For Hair, Wahoo Fire and Ice Grill, University Crossing, and Marinello School of Beauty.
Comments
comments