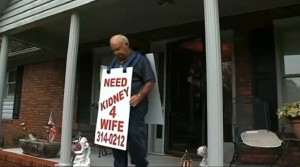 A guy in South Carolina wasn't going to sit around and watch his wife die while she waited for a kidney, so he did what any loving husband would do: he walked the streets asking strangers for a spare kidney.
The woman was born with one kidney, so when she started having trouble, she had no choice but to get a transplant. Unfortunately, none of her immediate family members were suitable donors, so her husband of 56 years put on a sandwich board that said, "need kidney 4 wife" and started walking around town.
This week, it paid off. The couple finally found a matching donor, and they think the media attention from the husband's stunt, helped. The hospital expects the woman to have a brand new kidney by this time next week.
Read more here!