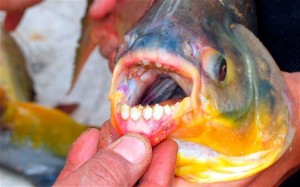 A Pacu fish, which has become known as the testicle-eating fish, has now been found in a lake in Washington state.
A fisherman caught the 17 inch long Pacu in Lake Ki.
It was reported that the fish was probably dumped in the water after it outgrew the owner's tank. The Pacu can grow up to four feet in length. The fish can be a danger to people swimming even though they are vegetarians.
They have molar-shaped teeth that allow them to crack open nuts. Two fisherman in New Guinea died of blood loss after the fish bit them in the testicles.
The fish have been found in Arizona, Colorado California, Arkansas, Texas, Alabama, Illinois, Wisconsin, Idaho, Massachusetts, Indiana, Maine, Mississippi, Wyoming, Virginia and Oklahoma.
Read more here!