Dear Mr. Tyler Keith,
Are you enjoying life? You should be. It's sure a good time, those 90′s are. Don't get so bent out of shape when the Buffalo Bills lose 4 straight Super Bowls. Control your anger when the Indians lose the World Series (Both of them), and please, please don't break that tv when Texas A&M beats K-State in the 98 Big XII Championship game. That's right little buddy, A&M beats us! Disgusting right? We totally got robbed. Don't worry though, those aren't the best days KState will ever see!
Be sure to keep doing well though. More specially, be sure to eat well. Ya know those little extra baby pounds you have now? Ya, when you get to high school, chicks won't dig that! But, keep up that personality though – that'll get 'em! Continue to be an over-the-top country music fan. Who knows, it could become your meal ticket one day! Be sure to listen to mom & dad better, be sure to kiss your bulldog Lucy & kitty-cat KC everyday, and don't forget to be a great big brother to your little sisters. Unfortunately, Miss Tori Ann won't always be able to be there…
Eat better, improve your golf game, say NO to chaw & booze, never get a tattoo, and quit requesting Limp Bizkit's Nookie on MTV's TRL – those are things you'll always regret!
You're a really good kid with a lot going for you. Keep it up. See ya in the mirror!
-Tyler Keith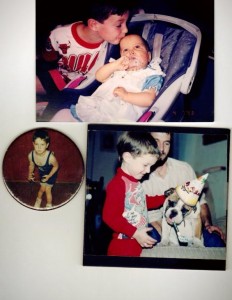 Megan,
First and foremost…BREAK UP with that idiot boyfriend of yours. He is not worthy, he looks like Splinter from the Ninja Turtles, and he is a complete piece of crap. Believe me. You can do waaaay better, and you will regret wasting 2 1/2 years on him. Also, that perm you are planning on getting? Ignore what Mom says…it will fry your hair and ruin it for the next 5 years. And that mini skirt/crop top combo you want to wear to the club tonight does not make you look sexy. It's makes you look like you charge by the hour. Also, your friends only want to hang out with you because your dad has given you access to his convertible. It's not like you suddenly became cool. And you know what? You don't WANT to be "cool". You want to be you. You are special. Even if everyone laughs at you now, it won't always be like that. High School IS NOT real life. Trust me, you don't want to peak now. Save your awesome for when you are older. And when you do get older and discover alcohol and cigarettes…do yourself and everyone else a favor…DON'T!!! You will be a horrible drunk, and make a complete fool of yourself many times. Only you will think you're funny. So, stick to Diet Coke.
Also, don't judge a book by it's cover…stop trying to impress people who don't like you- they're lame anyways- and always go for the good guy. If he treats you like crap…RUN!!! And no matter what your teacher says, you will never use Algebra in life. Unless you're a Scientist, which you will never be. Keep following your dreams. You will achieve every single one of them…within reason. I mean, you won't get your own country full of sparkly Unicorns and Pink Corvettes or anything…but you will do some cool things. Trust me. Follow your heart, and remember, Mom is always right (except for the perm idea.) Now, ditch the dumb boyfriend, stay away from hard liquor, and Go Get 'Em!!!