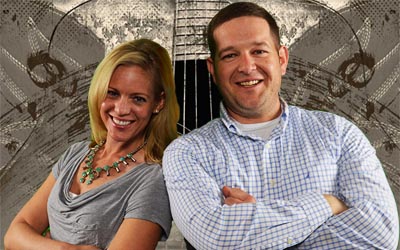 Wake up weekdays from 6-10a with Tyler and Megan!
Megan:
Hi! I'm Megan and I'm part of the morning show here on B104.7.  I've lived in Manhattan for a couple of years now, and I LOVE it here! I'm a proud Army wife (Hence why I am here in Manhattan in the first place) and love country music, talking too much, being outside, working out, reading, road trips, and animals…HUGE animal lover.  Thank you so much for letting me be a part of your morning!
Top 5 albums:
1: Anything George or Garth- two of my fave men!!!
2: Anything Rolling Stones- ESPECIALLY "Sticky Fingers"
3: Anything Led Zeppelin
4: Brooks and Dunn "Hard Workin' Man"- reminds me of my childhood
5: Anything Foo Fighters
Top 5 movies:TOP 5 MOVIES:
1: "Lonesome Dove"
2 "Scarface"
3 "Casino"
4 "Goodfellas"
5 "Almost Famous"
First album you owned:Madonna's "True Blue" – it's was given to me by my cousin when I was 4, and it was my first solid introduction to music.
Favorite artist:
I'm a big fan of the 90's country artists- gimme George, Garth, Reba, Alabama,  Brooks and Dunn, Pam Tillis and Tanya Tucker any day of the week!
As far as newer artists…I'm a BIG fan of Chris Young, Miranda Lambert, and the Josh Abbot Band and Kayce Musgraves.
If you weren't a DJ, what would your dream job be?
Horse Trainer or a rock star.  Obviously I don't like conventional jobs.
If you could hang out with one famous dead person, who?
Janis Joplin.
Tyler:
I'm energetic and passionate about everything in my life! I love Kansas, Manhattan, K-State, my dogs, my ole lady, my friends & family, and four-letter words! I work my ass off everyday to not only be successful, but to be the best person I can be! People can smell a fake from a mile away, so just be genuine! Be yourself!
Top 5 albums:
Only 5? Here's my attempt: Turnpike Troubadours "Diamonds & Gasoline", every single Randy Rogers Band album ever made, with my fav being "Just a matter of time", Josh Abbott Band "Scapegoat", Logan Mize "Nobody In Nashville", Aaron Watson "Angels & Outlaws", Granger Smith "Poets & Prisoners", George Strait, "50 #1 Hits" and…Jay-Z "The Blueprint"
Top 5 movies:TOP 5 MOVIES:
Dumb & Dumber, Shawshank Redemption, Rudy, Forrest Gump & Lincoln
First album you owned:
Garth Brooks, self-titled album
Favorite artist:
George Strait & Randy Rogers (And Turnpike Troubadours)
If you weren't a DJ, what would your dream job be?
 Professional touring drummer, or a professional golfer!
If you could hang out with one famous dead person, who?
Jesus & Babe Ruth
Comments
comments