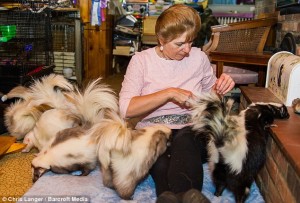 An Ohio woman runs America's only rescue center for skunks, and keeps 50 of the animals in her own home.
The skunks are given free reign of the five-bedroom house, even sleeping on her bed.
She said, 'A lot of people think we're weird to like pet skunks and they always say, "Why do you want a pet skunk" and I ask them, "Why do you want a pet dog?"
She added, 'It's the same reason – skunks can be loveable, devoted animals.'
The woman says the skunks have different personalities, and that she spends three hours every morning and evening cleaning the smelly creatures.
She also has a long-time boyfriend who tolerates her love for skunks.
Read More Here!