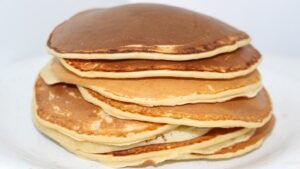 COVID robbed us of a number of things over the course of 2020 and 2021, but one of the most egregious is THE longest pancake-related tradition: The International Pancake Day Race between Liberal, KS, and Onley, England.
The full back story can be found here, but the short of it is that a woman in Olney back in the 1400s was making pancakes. The church bells started ringing signaling the start of the shriving service and, rather than let those delicious cakes go to waste, the woman ran 415 yards to the church with her skillet and flipping the cake the entire time. It became a race in the years that followed and Liberal joined in the fun in 1950.
This year's race will be at 11:55 a.m. CST. It can be watched here.
Comments
comments