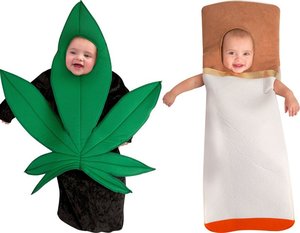 The online retailer BrandsOnSale.com is offering two Halloween costumes that allows parents to dress up their children as a marijuana leaf or cigarette.
The description for the marijuana leaf is: "This Halloween dress up your baby in our most outrageous costume yet! The baby marijuana plant costume is just the right combo of cute and edgy that is sure to get stares and laughs from everyone."
The description for the cigarette is: "No worry of cancer with this cigarette costume. Who knew tobacco could look this cute?"
Both costumes cost $29.99.
Read more here!