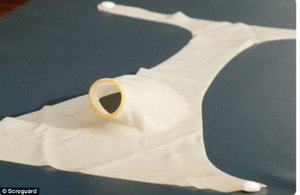 A condom for the entire crotch area has been created to lower the risk of catching STDs.
Scroguard is worn with a condom and reduces skin on skin contact, lowering the risk of catching infections like herpes or genital warts which are transmitted through contact with skin.The creators say it was designed for men with a high sex drive who enjoy sexual variety, and couples and individuals who love to swing.
They warn the pants may make a farting sound if air gets inside.