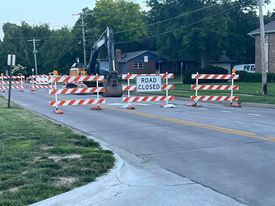 Motorists can expect some traffic adjustments on Browning Ave. near Marlatt Elementary well into next month.
The City of Manhattan has confirmed a Kansas Department of Transportation (KDOT) Safe Routes to Schools project began this week and will keep the intersection at Browning and Dickens Ave. closed for approximately six weeks. North and southbound travelers are being told to use the detour of Hobbs Drive and College Avenue.
While east/west access is remains open on Dickens Ave., southbound access to Browning from Dickens will be closed during the project.
Once completed, the project will include new sidewalks and ramps and repair damaged panels for the existing crosswalk. It will also remove an existing right turn lane on the west side of Dickens and fix the turning radius on that corner.
Comments
comments