The Manhattan Conference Center was full Friday night for the 97th annual meeting and banquet of the Manhattan Area Chamber of Commerce.
Over 200 area business people, philanthropists, local and state representatives attended the event to dine, acknowledge 2021 award recipients and hear from the new Chamber Board of Directors chair.
President and CEO Jason Smith opened the evening following dinner acknowledging the organization's growth over 2021, which saw the Chamber reach a record total of 856 members. Despite that, Smith says they aren't satisfied.
"We need to expand our collective influence even more as we push for 1,000 members and have all members engaged in some element of the organization," says Smith. "We continue to promote pro-growth and pro-business agendas at all levels of government. We are poised to rebound from the pandemic with an outstanding Convention and Visitors Bureau (CVB) team that is effective and well-respected throughout the Midwest."
Smith says the Chamber's leadership in 2021 was central to the year's achievements, headed up by Board Chair Mark Bachamp of Olsson, also taking time to recognize the work of his staff.
"This year marks 25 years for me in the economic development/chamber industry," Smith says. "I have worked on small staffs, larger staffs, in bigger cities and smaller cities; but I want to assure you that I've never worked with a better team, nor have I been aware of a better chamber team in any of my experiences."
Bachamp took time to recognize the outgoing 2021 Board of Directors for their service, his employer for their flexibility, and his wife for her support throughout the year.
Bachamp says the Chamber has stepped up and taken charge to push development in the last year, and says the whole community will reap the rewards of that work for the next 20 years.
"The framework was established in '21, just set back away to see what's coming for '22 from the hardware that was put in," Bachamp says. "The foundation is established and now we've got to build on it."
With growth, Bachamp says, comes a need for more land for development. He says the organization will continue keeping a close eye on talk of annexation and eastward growth into Pottawatomie County. Bachamp further pushed for the continuation of efforts by the Kansas Department of Commerce, noting the presence of Attorney General and gubernatorial candidate Derek Schmidt.
"The private sector cannot do what the Department of Commerce does," he says. "And that is have all these people around the nation recruiting companies to look at Manhattan or look at Kansas — they're doing an outstanding job."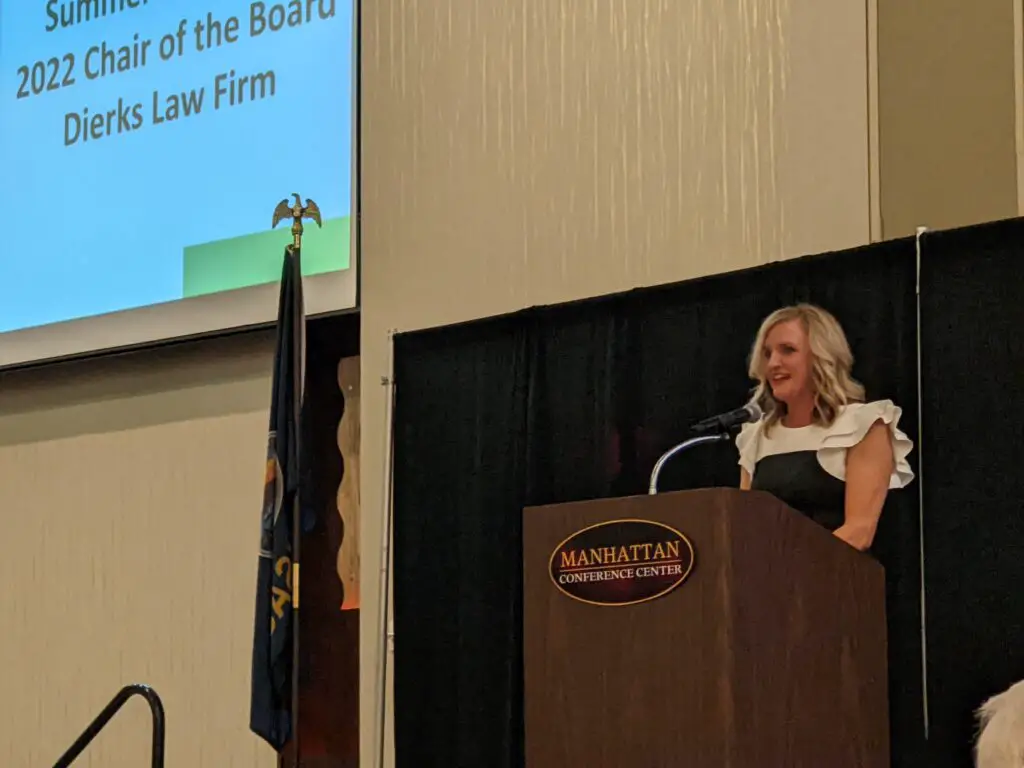 Entering as Board Chair for 2022 is Summer Ott Dierks of Dierks Law Firm. Dierks has been on the Chamber's executive committee for the past four years and the board of directors for about seven. Dierks says the ball won't stop rolling for the Chamber in the coming year, also acknowledging the role the organization's services played in helping her business get going.
"Eight months ago, I started Dierk's law firm; I couldn't have done so without the help of some amazing key players in this community," says Dierks. "The resources that we have in this town are simply incredible — and I know that you all know it, you look around the room and these people are amazing."
Dierks says in 2022, she wants to place an onus on prioritizing entrepreneurship and developing young professionals while ensuring the organization makes efforts to reach out to diverse segments of the community.
"If you look around the room, you'll notice that there is a lack of diversification," she says. "The challenge for us all is to change that. Why aren't you seeing certain people in the room? Go out and get them and bring them into the room; better yet, go out and get them and bring them to your leadership table.
"Our community can only grow if everyone is involved and we utilize all of our assets."
Dierks announced that Stephanie Pierce and Nija Threat will be leading the Chamber's HYPE young professionals group, which in 2022 launched a $50 membership program. She also announced that the Chamber and HYPE are collaborating on the new Manhattan Professional Mentorship Program, the application to was launched this week.
"I challenge you to look at your own organizations and assess how many young professionals you have and how many you might need," she says. "Let's keep them here and grow them into young leaders to carry our community forward after we are all gone."
The evening ended with the announcement of the 2021 Chamber Award recipients. Every year, members of the community are recognized for their contributions with the Young Professional of the Year, C. Clyde Jones Volunteer of the Year, and Lud Fiser Citizen of the Year awards.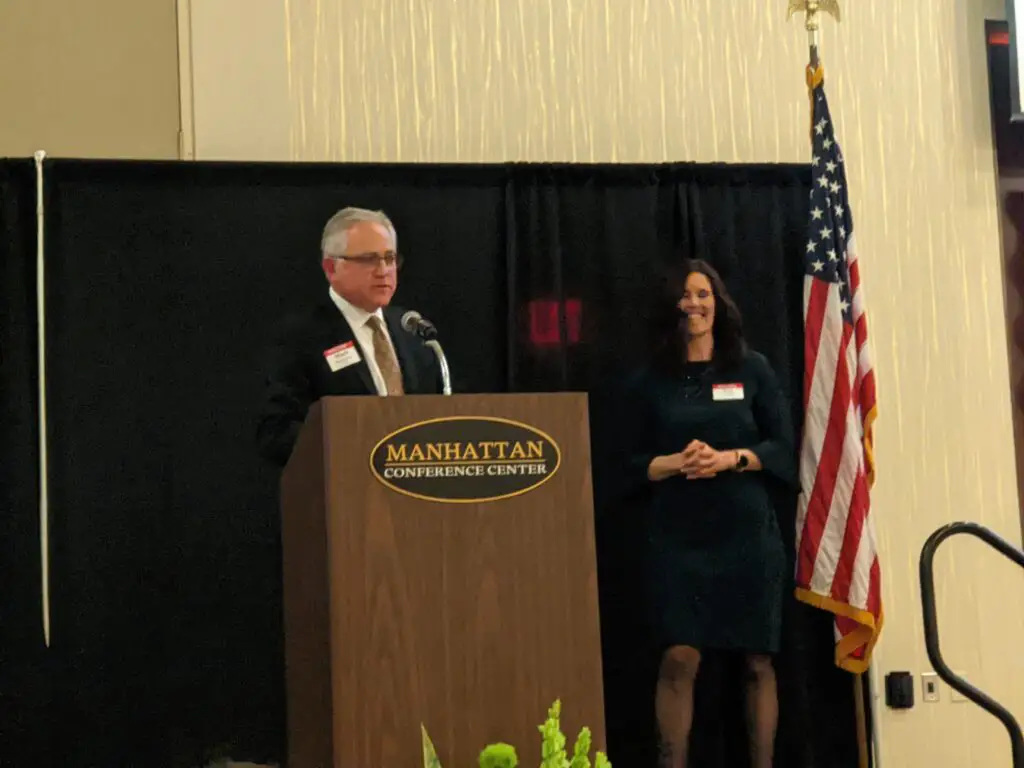 Tara Grubb was recognized as the 2021 Young Professional of the Year, having moved to the community in 2011 when she became involved with the Young Professional program and numerous other avenues. She was part of the steering committee that helped rebrand the group now known as HYPE in 2019, of which she served as chair until the end of 2021.
"Stephanie is going to be a great leader, I am hopefully leaving you shoes that you are already filling in tremendous ways," Grubb says. "I'm excited for our team and what it has to offer. And I hope that all of you as Chamber members and business owners know how important your young professionals are in this community and that you invest in them and help them become members of our organization because they are our tomorrow. And that's exactly where we need to put our efforts into. So, thank you very much."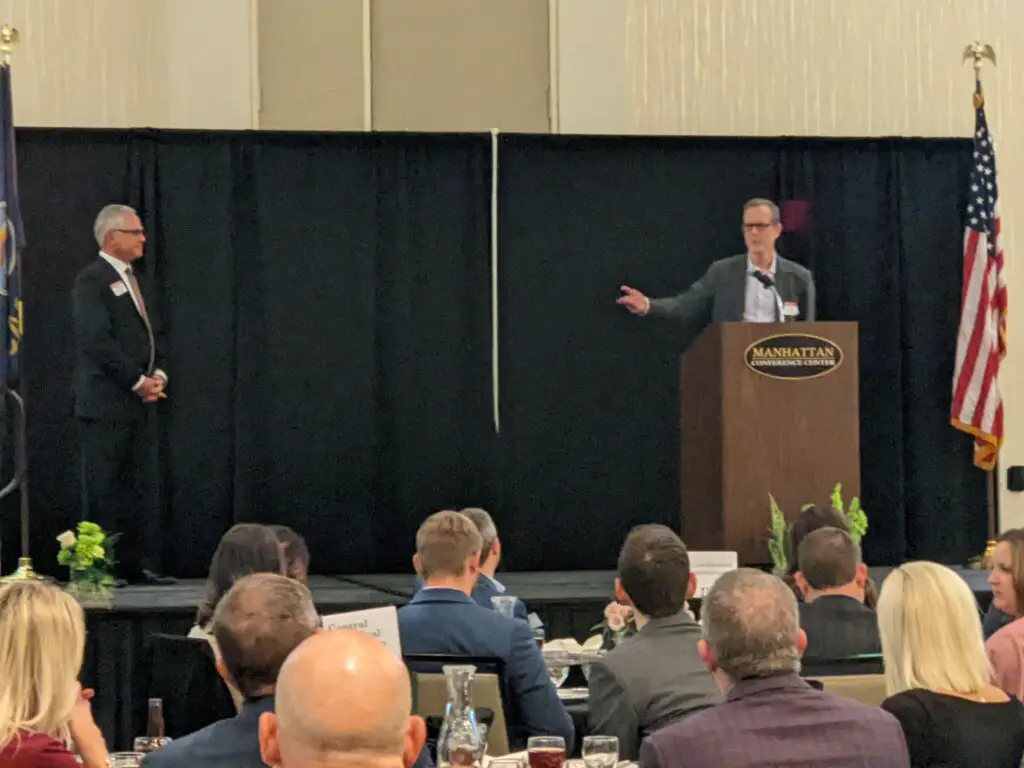 Tracy Anderson was recognized as the 2021 C. Clyde Jones Volunteer of the Year, having helped to lead Chamber fundraising efforts to support the Riley County economic development sales tax question and volunteered time and work toward planning a new indoor aquatic facility in Manhattan. Anderson is co-founder of Anderson Knight Architects, which opened its doors in 2002.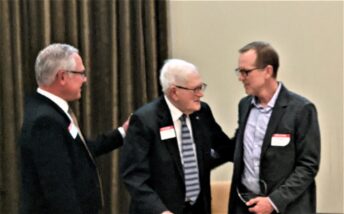 "Obviously, I couldn't do any of what I've done without a good support team," he says. "A lot of you out here, I know, have been a part of that;b ut the folks in my office are the ones who really allow me to sort of go out there a ways before they start wheeling me back in. And then I have to say thank you to my wife, Barbie. My oh so very, very patient wife, Barbie. So without them, I obviously wouldn't be able to do any of things that I'm being recognized here for. So thank you."
Wayne Sloan was recognized as the 2021 Lud Fiser Citizen of the Year, an active community member who serves an assortment of groups such as the Pawnee Mental Health Foundation, Greater Manhattan Economic Partnership and Greater Manhattan Community Foundation. Sloan is the CEO of BHS Construction and former Chamber board chair. In his speech, he acknowledged his father's inspiration — having won the award himself 54 years prior.
"I have to say many thanks. I have to thank my wife, Cindy, for letting me do chamber stuff. I have to thank my family for all the hours I left them. So thank you, Zach and Heather, for the time that I was unable to spend with you. I also have to thank my business partners and employees that are carrying on the legacy. They're doing a great job at BHS and carrying on this legacy and working for the community, giving back to the community.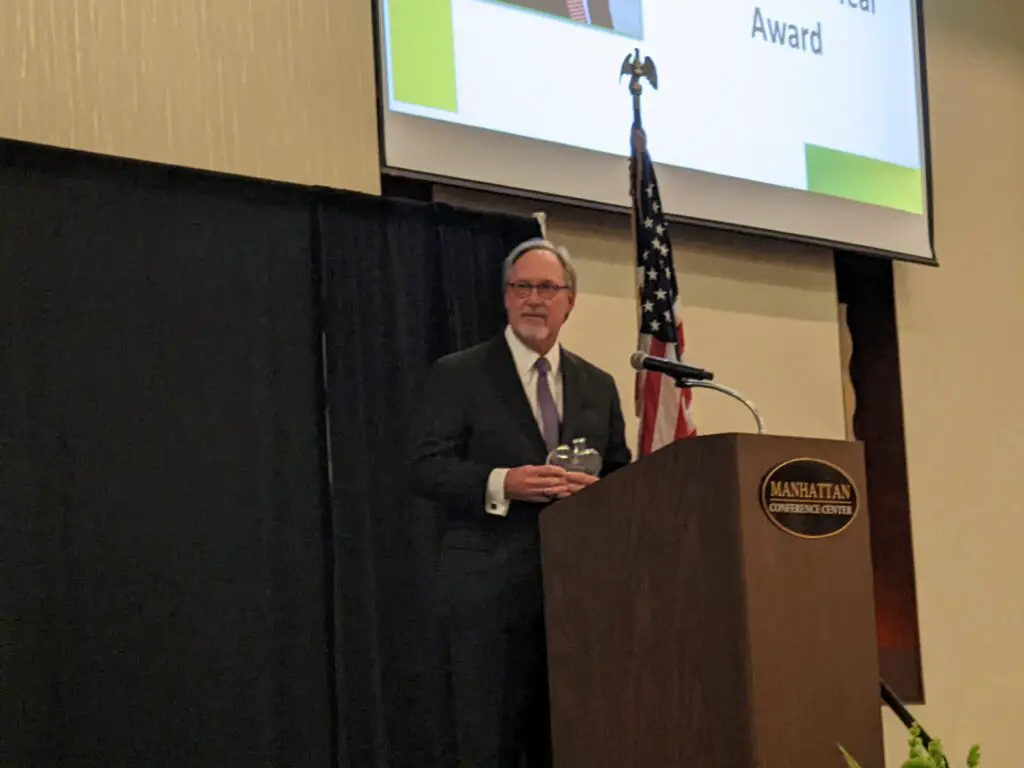 "I also have to thank everybody in this room, the Chamber members and the businesses that they represent. The Chamber isn't just a organization, it's actually all of us that are working towards a better Manhattan. We have to thank our community partners that help us work towards that. So, thank every one of you. You know, for my father 54 years ago through now and going forward, I know that the Chamber of Commerce is going to be the organization that drives this community forward. So thank you all and God bless you all."
The post Chamber recognizes 2021 award recipients at 97th annual banquet appeared first on News Radio KMAN.
Comments
comments