The attorney of the City of Junction City encourages residents not to possess or utilize products made from the cannabinoid commonly called Delta-8 in city limits following an opinion released by the Kansas Attorney General on December 2, 2021.
Guided by the A.G.'s opinion, City Attorney Britain Stites' office sees products consisting of more than 0.3 percent Delta-8 or other THC isomers as Schedule I controlled substances. The president and lawyer of CBD American Shaman, a major retailer of hemp products including Delta-8 with a Manhattan location, have a different interpretation and are prepared to defend their view in court.
---
Delta-8 Tetrahydrocannabinol is a psychoactive substance found naturally in cannabis plants that, when extracted and concentrated, can act as a weaker surrogate to the more conventional Delta-9 THC present in marijuana. Products containing Delta-8 and other related and similar isomers such as Delta-10 entered CBD shops nationwide following the passage of the 2018 Farm Bill, which created a loophole for the products in federal law when it removed hemp not containing Delta-9 from the Controlled Substances Act's definition of marijuana.
A.G. Derek Schmidt's 2021 opinion addressed the legality of sales of Delta-8 Tetrahydrocannabinol and isomers in Kansas and what percentage of the substance is permitted in commercial products under Kansas law. Schmidt ultimately concluded in his nine-page opinion that Delta-8 does fall under the Schedule I classification "unless it is made from industrial hemp and is contained in a lawful hemp product having no more than 0.3% total tetrahydrocannabinols (THC)."
Schmidt further elaborated that hemp products for human consumption such as cigarettes, vaporizer liquids and teas "are unlawful to sell in Kansas regardless of THC content."
Following the release of Schmidt's opinion, Stites drafted a cease and desist letter for retailers of Delta-8 products after conversation with Junction City police. Stites says he had been receiving calls from citizens regarding Delta-8 sales prior to the opinion as well.
"My office did not give a set deadline or time frame [to halt sales]because you start to run into a jurisdictional issue there," says Stites. "For the City of Junction City, yes, we can say if you're running a store here it is considered illegal, but my office would not handle those prosecutions.
"I felt like it was my place to help educate our retailers within our city, but I didn't feel like it was my place to impose a deadline."
Stites says he's in talks with the Geary County Attorney's Office to discuss next steps, but currently says they're in an 'education' phase with retailers and the public regarding the legality of Delta-8 products in Junction City. So far, he says, that's taken the form of detectives visiting retailers with copies of Stites' letter, Schmidt's opinion and state statute.
"The whole goal here is to educate," says Stites. "The last thing we want is people to be trying to do business in Junction City and get tripped up in the legality here."
Stites couldn't speak as to how police would enforce the law as interpreted in Geary County, though indicated that there exists a possibility an officer could cite a retailer or possessor of Delta-8 with a criminal charge under their discretion.
"I have not encouraged them to do that," Stites says. "I try not to direct officers in how they do their jobs and kind of [like]how they leave me alone in how I prosecute their cases."
KMAN also reached out to Riley County officials regarding the A.G. opinion following its release. County Public Information Officer Vivienne Uccello says County Attorney Barry Wilkerson has no plans to issue a duplicate opinion and "will enforce the law." Uccello was unable to provide any additional information on plans regarding existing Delta-8 retailers in county limits.
Riley County Police Department Public Information Officer Aaron Wintermote echoed similar sentiments, saying the department is "currently reviewing this topic internally."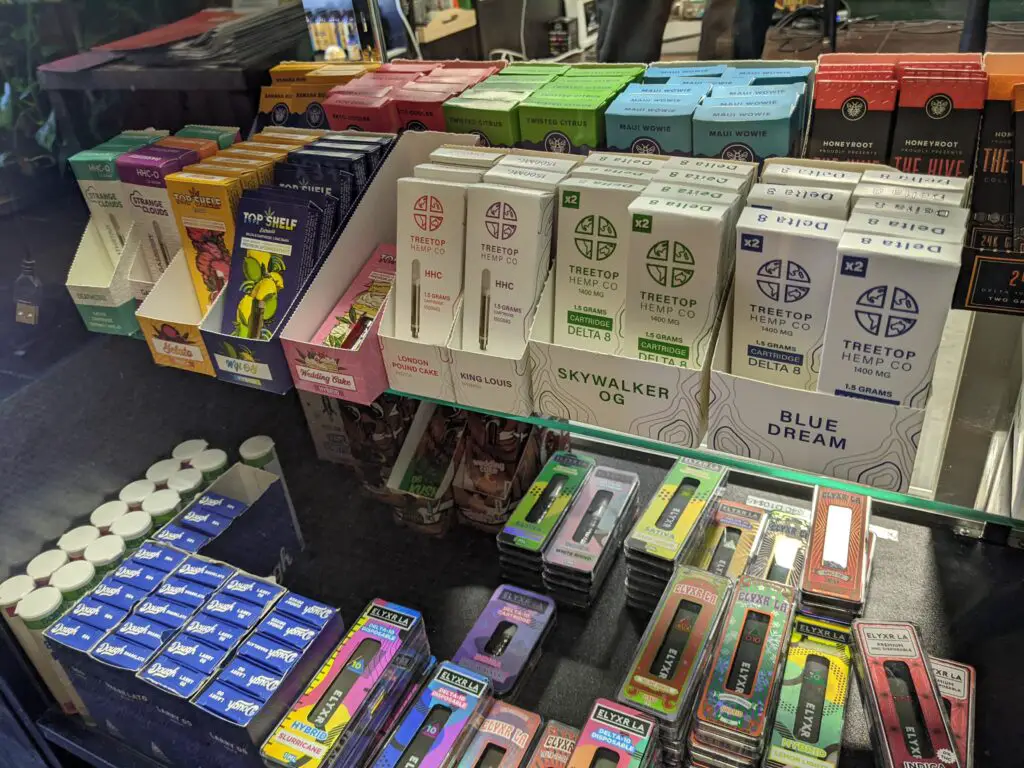 Delta-8 products remain on shelves in Manhattan at this time. CBD American Shaman Manhattan Co-owner Donald Ince tells KMAN contingency plans exist for the business if the situation changes locally.
---
Stites detailed his interpretation of the A.G. opinion in a Monday conversation with KMAN. He pointed to Kansas statute [K.S.A 65-4105(h)(1)] defining tetrahydrocannabinols as cited in the opinion as a factor in his determination on the legality of Delta-8 products under Kansas law.
Stites points to lines from state statute indicating that tetrahydrocannabinols are broadly defined by the Kansas legislature, saying that while the law specifies certain tetrahydrocannabinol isomers such as Delta-1 or Delta-3 the law does not limit the designation to solely what is explicitly listed in the law's text.
"What it appears to me by reading it is you get into that 'tetrahydrocannabinols, meaning THC, naturally contained in a plant of the genus cannabis, as well as synthetic equivalents of the substances in the plant, or in the resinous extractives of Cannabis, and/or synthetic substances, derivatives, and their isomers with similar chemical structure and pharmacological activity such as the following'.
"When you get into that 'such as the following', based upon case law that means that it can be those, but there could be more."
Based on that, Stites sees the definition of tetrahydrocannabinols to include substances like Delta-8 or Delta-10 and as such products containing them at percentages higher than 0.3 percent fall under the category of Schedule I controlled substances.
Junction City's letter has drawn the attention of CBD American Shaman President Vince Sanders and their counsel Sean Pickett. Sanders founded the hemp retail company in 2015 out of Kansas City, now constituting 365 retail locations. Picket is an attorney out of Kansas City's Sean W. Pickett & Associates law firm.
Sanders has a different interpretation of Schmidt's opinion, the A.G.'s issuance of which he says has led to sensationalist coverage and misguided local interpretations in a couple areas.
"The interesting thing in the attorney general's article is he doesn't say Delta-8 is illegal," Sanders tells KMAN. "In fact, in the conclusion he says Delta-8 derived from industrial hemp is legal to possess and sell."
The conclusion does feature that language, also stating such products cannot lawfully contain "more than 0.3% total tetrahydrocannabinols (THC)."
"The Farm Bill indicated and then the Congress made it very clear that they want hemp as a potential bio-product to use in all kinds of products[…] so that the plant can become a viable commodity," says Pickett. "The only thing illegal are finished products above the 0.3 percent of Delta-9 THC.
"Kansas has a hemp bill that legalizes hemp and it has the exact same language."
Pickett says they're confident in their interpretation of the law and have reached out to Stites to discuss their cease and desist letters. Stites tells KMAN he was unable to get in touch with Pickett in return. Pickett says they're also in discussions with a different retailer in Junction City regarding the situation, and says they're prepared to defend their interpretation if CBD American Shaman faces legal action.
"We've won similar cases through multiple states on CBD issues," he says. "We know we're correct with our products, our products are not hot in any fashion so we have no problem spending the money to defend what we know are non-hot products and legal under the Farm Bill."
Pickett and Sanders also touched on an element of futility in continuing to ban cannabinoids, with new isomers or alternative surrogate products arising that will slip through regulatory gaps. One such substance is the semi-synthetic cannabinoid hexahydrocannabinol (also called HHC), with products containing it being derived from legal industrial hemp while offering similar effects to THC. Though questions remain whether HHC could eventually be lumped into the Federal Analogue Act as a Schedule I drug analog.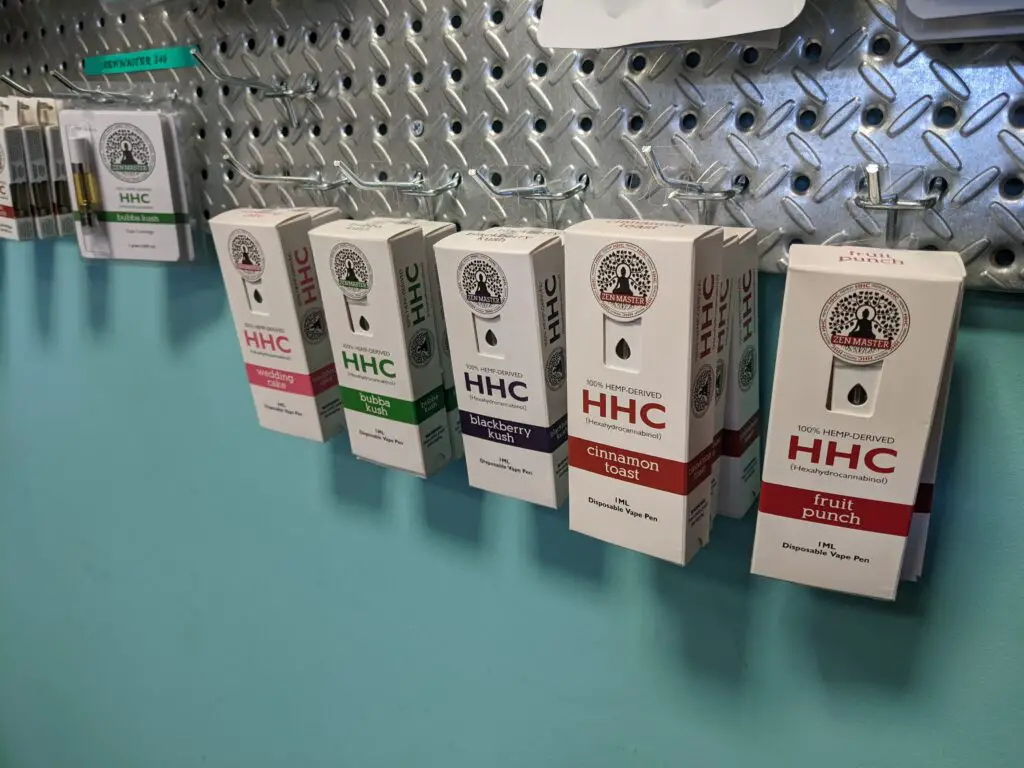 Differing interpretations of tetrahydrocannabinol legality under Kansas law has yet to directly impact CBD American Shaman locations, as the company has no stores located in Junction City or in Ellis County where local action is also being taken on Delta-8 sales following the A.G. opinion's release.
"I kind of wish we did because then we could fight it directly," says Sanders.
Sanders says he's received calls from customers and residents, but no one from law enforcement has reached out with cease and desist letters to any CBD American Shaman location.
"My guess is [that's because of] a combination of things," he says. "Where the stores are located and the fact that they know we are a large, professional company and they probably just assume that if we're doing it we must be doing it right."
And Sanders says 'doing it right' is a big focus for his franchisees. He says while there may exist bad actors in the market cutting corners and selling 'hot' products that break the 0.3 percent Delta-9 THC limit, they place an onus on working with companies that provide analyses of their products to ensure everything stays legitimate.
"That is a scare right now in the industry, that you make sure that you're buying from a responsible outfitter or retailer that has good and responsible product labeling and accuracy," says Sanders.
Sanders says their stores began selling Delta-8 products in April of 2021 following exploration of their legality. He says revenue has grown quickly with local demand for the products and that he plans to continue operations per usual at this time.
"The legislators always could make a bill and write specific language that did outlaw Delta-8," says Sanders. "Are we concerned about it? Yeah, obviously that would send a chill to business, but hopefully if that does happen we can get in and educate lawmakers that would be a bad move.
"In fact, making it legal and black-and-white with strict standards to ensure public safety would be a much more intelligent way to go about writing legislation for this."
Stites tells KMAN he's open to discuss the A.G. opinion and his interpretation with stakeholders, saying their 'education' phase with the JC community could serve as a time for CBD lawyers and government lawyers to get together to find a middle ground.
"Or one side convinces the other and we go from there."
The post City attorney: Junction City views Delta-8 THC as Schedule I controlled substance appeared first on News Radio KMAN.
Comments
comments