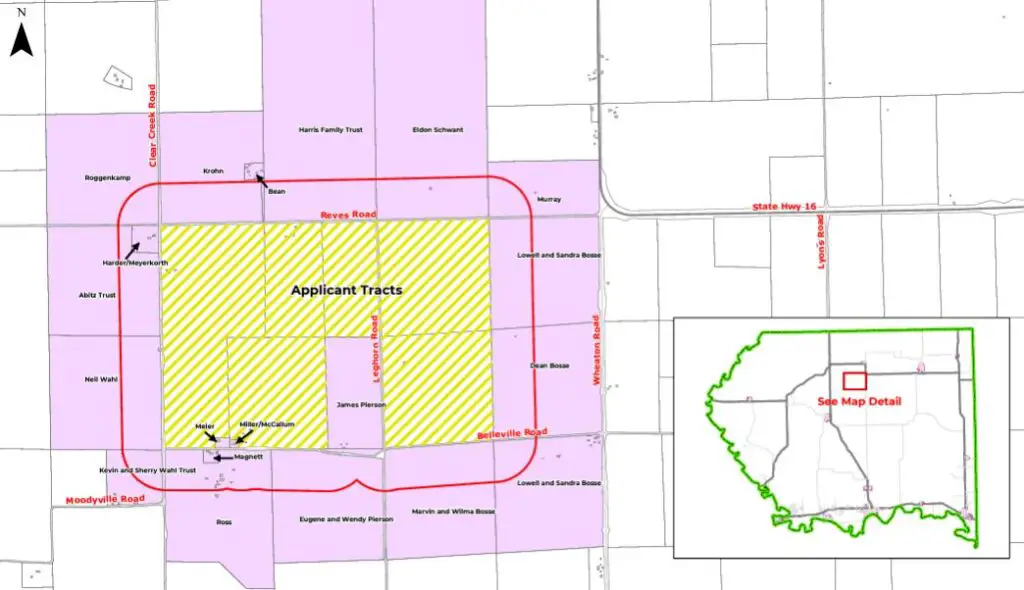 Pottawatomie County commissioners this week approved a conditional use permit for a rock quarry to go in near Wheaton.
The vote was 2-1 in favor of Mid-States Materials and came after months of discussion on the topic and a number of protests from residents who live near the planned quarry. It will be constructed about a half-mile west of Wheaton Road and Highway 16, via Reves Road.
Commissioner Greg Riat, the lone commissioner to vote no on the quarry, took issue with condition number five, relating to 50 foot setbacks on each side of the property, arguing the setbacks should have been extended much further, preferring 1,000 feet.
Commissioners Dee McKee and Pat Weixelman voted in favor. McKee says commissioners did their due diligence to weigh pros and cons.
Commissioner Weixelman based his vote partially on the third condition, which spells out a requirement for a pre-excavation seismology study to be conducted at the property boundaries as well as at any residence within 1,000 feet that requests it prior to commencement of quarrying operations.
Pottawatomie County Planner Stephan Metzger listed some of the changes commissioners made to conditions prior to approval.
Commissioners also set parameters requiring Mid-States Materials to obtain bus route information from the school district and stipulated that no blasting shall occur 15 minutes prior to or after the presence of a bus adjacent to the quarry site. All loads are also required to be tarped upon leaving the quarry site. Inspectors will have access to the site as needed. Inoperable vehicles will also not be allowed to be openly stored onsite.
The full conditions for the Mid-States Materials quarry are available below.
Comments
comments