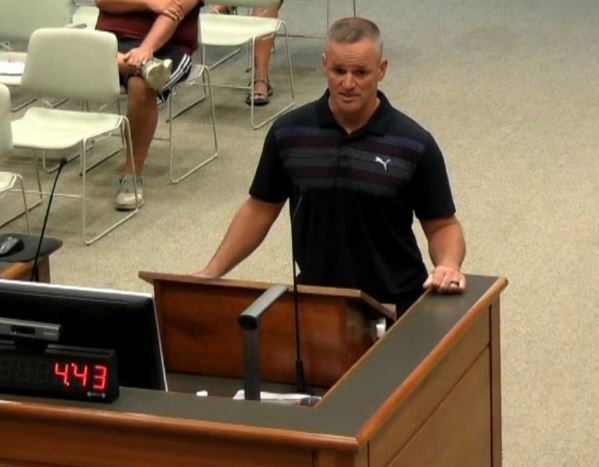 Members of the Manhattan Parks & Recreation Advisory Board were painted a grim picture of the financial challenges hampering the city's parks & recreation department. Monday marked the board's first public meeting since the July 18 special session held at the Manhattan Fire Department headquarters.
Deputy City Manager Jason Hilgers says the challenges have been brought on from flat or declining revenues over the past six to seven years. He says conversations with staff have consistently aimed at saving the most money possible without impacting services.
"When I have conversations with staff in this building, it's about ways we can spend less. That's across the board," he said.
Hilgers says cuts were made in the department in 2017, 2018 and 2019.
"Some of them (have been) fairly invisible. If you watch what we do everyday, you knew cuts were happening," he said.
Board member Christine Weixelman pressed on the issue of privatization, saying she doesn't believe the city has been forthcoming on the matter of trying to look at ways to privatize and eliminate some aspects of the department.
Hilgers says that's not a conversation happening between staff.
"We were approached in 2017 by groups that perform soccer in this community. That's the only thing I'm aware of that has transpired in the last five years where we have not provided a youth program, but yet relied on a private group to offer a program," he said.
Board members were asked why they are only now just finding out about some of the financial challenges, something Hilgers says he can't explain but stated it may be because the advisory board is not directly involved with the budgeting process. He says the conversation has been ongoing with city commissioners.
Hilgers says an alternative to being so reliant on sales taxes is to raise property taxes, something he says is not a popular idea.
"When you have five years of flat or declining revenues, you have to start adjusting your operation. Your cash balance is also extremely important," he said.
The cuts were done out of necessity, he says due to flat or declining sales tax revenues.
"The Governmental Finance Officers Association recommends a general fund of $8.5 to $10 million. In 2018, that figure was as low as $1.7 million. It's the equivalent of suggesting you have $2,000 to $3,000 in your checking account and you have $200. It's not a good scenario," he said.
On top of the financial challenges for the department are ongoing staffing concerns, fueled somewhat by the added recreation space from the two middle schools, which opened just last year.
Hilgers noted to the board Monday that they will provide some aspect of fall sports and activities, but says he does worry about the sustainability of some aspects of the department heading into 2023.
The full conversation from Monday's interaction between the advisory board and Deputy City Manager Hilgers is shared below. (Note: Hilgers' comments after a question from Weixelman begin around the 5 minute mark.)
Comments
comments