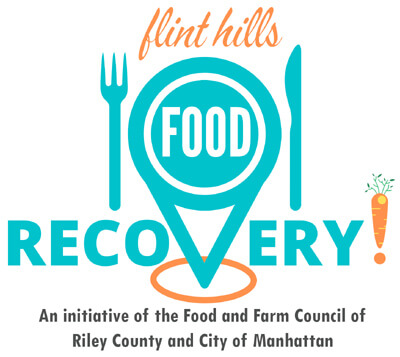 A new effort aimed at reducing food waste in Manhattan and Riley County is connecting the local food industry directly with shelters, churches and food pantries that can easily re-purpose it.
Riley County and Manhattan Food and Farm Council (FFC) Coordinator Vickie James says the idea for the new Flint Hills Food Recovery, grew from the vision of the now defunct Manhattan Soup Kitchen, which had aimed at something similar prior to the pandemic. Co-founders Shelly and Sande Williams donated the funds to secure the first to years of access to a mobile app called ChowMatch. With it, James says a caterer, for example, can connect with potential recipients who can re-distribute that food.
"The caterer can, in one minute, plug in that they've got X amount of food and what type of food, and schedule a food run. What that does, it matches what recipient could take that food, that time of day, that volume of food, and get it served out safely to people in need," she said.
Secondly, the caterer, or other food provider is matched with council volunteers, similar to how businesses like DoorDash and EatStreet match delivery drivers for restaurant orders, to pick up food that otherwise would have been discarded.
"If you are one of our volunteers, you would get an e-mail and a text and you could look at that and determine if it's one you can pick up and if not you simply ignore it. If it's one you can pick up, you click yes and it pops it out of the system and tells you where to go. It even has Google Maps to tell you how to go to the location and then where to drop it off," she said.
A number of restaurants and caterers, hospitals and public education systems are signed up with ChowMatch, as are many food recipients, such as the Flint Hills Breadbasket, Common Table, Be Able and Manhattan Emergency Shelter.
A walk-in refrigerator/freezer unit is available for off-hours donations at the Riley County Health Department, which is a recent purchase by the Flint Hills Wellness Coalition (FHWC) through a no-cost lease agreement. It utilized grant funds provided by the Kansas Health Foundation, Greater Manhattan Community Foundation, Konza United Way as well as donations and in-kind support from BHS Construction, Economy Electric and Thermal Comfort Air.
Under a memorandum of understanding with the FHWC, the FFC is able to use the space for food recovery when situations create a need to hold food until operating hours allow it to be moved to the recipient group.
To learn more about the Flint Hills Food Recovery, or how to volunteer, visit
nourishtogether.org
.
Comments
comments