Freedom, strength, and resilience were the themes set for this year's Manhattan Juneteenth art auction, held Thursday at Manhattan's Douglass Activity Center.
The second-annual event showcased works from artists across the community. These pieces were created by artists of all ages and skill levels. 
Event organizer and artist Hilary Wahlen spoke with KMAN about the event, and she said that one change was made to the auction this year that benefited the event very well.
Wahlen had one piece up for auction at the event, which featured three generations of black women. She said that these women perfectly represented this year's themes.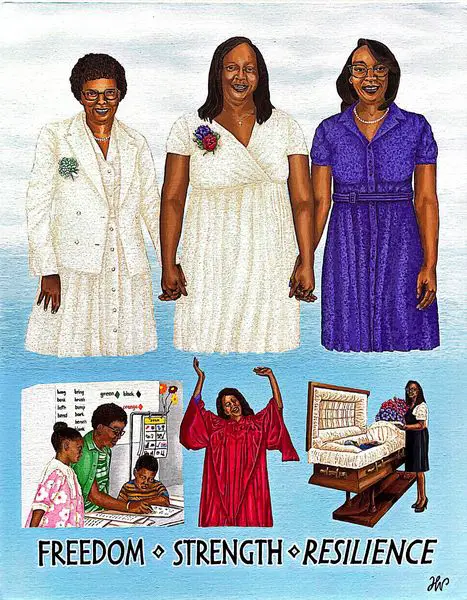 Another notable piece from the event was created by 15-year-old Kaylyn Parker. Parker was the second youngest artist whose work was part of the auction, yet her piece brought in the third highest amount of the night.
Overall, nearly $2,700 was raised at the auction. While the amount raised was a great benefit to the organization and the artists, Wahlen also said that the messages the art conveys are just as important.
Proceeds from Thursday's auction will be split between the artists and the Juneteenth Committee to help fund future Juneteenth events.
Downtown Manhattan's website includes further details about this year's art and artists as well as images of the pieces that were featured.
Comments
comments