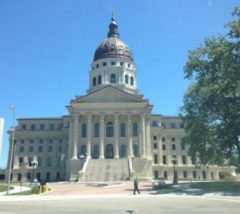 Kansas lawmakers cleared the first hurdle Tuesday on a ban on transgender athletes in girl's and women's school sports.
The 27-12 Senate vote on SB 484 gave conservatives the necessary two-thirds majority needed for a veto override. Governor Laura Kelly vetoed a similar effort last year, but Republicans fell one vote shy of overriding a veto after three party members sided with Democrats.
USD 383 board member Jayme Morris-Hardeman, a parent of transgender child, expressed disappointment in the Senate's vote during an appearance Wednesday on KMAN's In Focus.
"I think that the students should get to participate in the gender that they are. If you're transgender you are the gender that you are saying that you are. If you say you're female then you are female and you should get to participate in those activities," she said.
LGBTQ rights advocates argue the bill represents discrimination and targets transgender youth already vulnerable to bullying and suicide. Supporters, including the bill's original sponsor Sen. Renee Erickson (R-Wichita), say it protects fair competition and preserves college scholarship opportunities for other girls and women.
"It is about fairness for women to have equal opportunities in sports. It is indisputable that when it comes to sports, biological men have a physiological, hormonal and chromosomal advantage over biological women," she said during a Senate debate Monday in Topeka.
Opponents say the bill oversteps the bounds of the Kansas State High School Activities Association (KSHSAA).
Another bill that passed the Senate this week was SB 455, which if passed by both chambers would allow K-12 students to transfer to and attend school in any Kansas school district.
Senate Bill 455 also would require districts to accept transfer applications from students outside district boundaries based on school capacity, essentially ending the current practice of districts considering those requests on a case-by-case basis.
Proponents say it opens up school choice options to families. Opponents argue it takes away local control from school boards. Manhattan-Ogden Assistant Superintendent Eric Reid says there is a financial impact to districts with such legislation.
"I look at it from a taxing perspective. If we realize that someone coming in from out of district doesn't pay taxes within our district. They can actually raise the local taxes by coming into the district," he said.
The bill is opposed by the Kansas State Board of Education, who cites additional strains the transfers could put on districts already experiencing teacher shortages.
"I understand the thought behind it is allowing people to have choice, but there's a reason we have districts set up and there's a reason why local districts get to set their own policies and controls over those things," Reid said.
USD 378 Riley County Superintendent Cliff Williams told KMAN Wednesday he didn't believe his district would benefit from such legislation.
"I think most families are probably going to stay where they're at, at least in our area," he said.
Williams says his district had about 133 out of district students, which is a pretty high number in comparison to most years.
"With the additions we've made, we've got adequate space to be able to handle growth," he said.
The Senate approved the measure Tuesday by a 23-16 vote.
Another measure that passed the Senate Tuesday was SB 496, which would create a "parent bill of rights" allowing parents to direct the upbringing, education, care, and mental health of their child. Specifically it would set boundaries on districts' abilities to teach on such things like race, gender identity and other issues taught in schools.
The bill passed on a 24-15 vote Tuesday. Manhattan Democratic Sen. Tom Hawk opposed all three bills.
The post Kansas Senate advances measures targeting transgender participation in sports, school transfers appeared first on News Radio KMAN.
Comments
comments