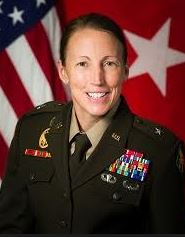 History was made this week in the 1st Infantry Division as the US Army announced the promotion of the first female Deputy Commanding General (Support).
The assignment of Brigadier General Niave Knell was announced Monday by the Chief of Staff of the Army. Brig. Gen. Knell currently serves at Fort Leonard Wood, Missouri as Commandant of the U.S. Army Military Police School, U.S. Army Maneuver Support Center of Excellence.
She previously served as Chief of Staff for the U.S. Army North, Joint Base San Antonio, Texas.
Knell is a native of Milford, Massachusetts and has had a 30 year career in the Army.
The post Knell to serve as 1st Infantry Division's first female Deputy Commanding General appeared first on News Radio KMAN.
Comments
comments