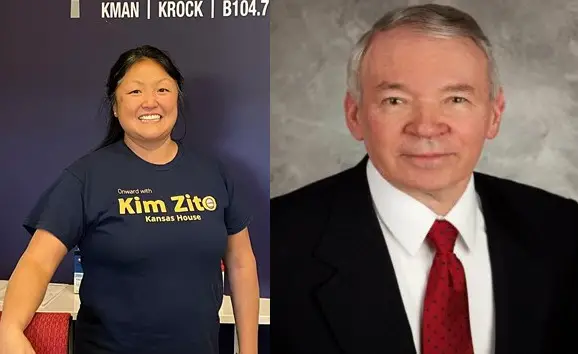 In the race for the Kansas District 67 House seat, Republican incumbent Mike Dodson is challenged by Democrat Kim Zito, both of Manhattan. The two were interviewed on News Radio KMAN on Oct. 19 regarding their positions on some of the key issues. Here are their responses.
1. What issue specifically facing the Manhattan area do you see needing attention in the upcoming legislative session?
2. In terms of education and policy, what are some of the challenges still facing our K-12 schools today, How do you go about addressing that?
3. Higher education continues to see declines in new student enrollment. Kansas State saw enrollment dip below 20,000 for the first time in more than three decades. What can be done from a legislative perspective to support universities like K-State to turn those lagging numbers around?
4. After voters spoke overwhelmingly in August to protect abortion rights in Kansas, do you think the conversation ends there, or do you believe the legislature can or should adopt policies to better regulate the process?
5. With the amendments on the ballot, it appears the Legislature is looking to shift the balance of power from executive to legislative in terms of rules and regulations issued by the governor. Is that something you support? Explain your position.
6. Medicaid expansion is likely to be another issue brought up during the session. What is your position on the issue and do you think it's something that can or should be debated?
7. It took a few years but the state was able to approve expanded sports gambling. Should the legislature explore medical marijuana in the next session?
8. What would you say is your top priority as an elected representative?
Comments
comments