For the first time, Wamego will play host to an event July 4th weekend to honor a Wamego raised who lost his battle with brain cancer and to raise awareness of the disease that ended his life.
Live Free in Wamego will be held July 2, with 15 activities planned for One Cause; ending childhood brain cancer. The event is being put on by Tough2gether Against DIPG in honor of Jace Ward, a Wamego native and K-State student who lost his battle with DIPG in 2021 at the age of 22.
DIPG is an aggressive form of brain cancer that, unfortunately, is inoperable. The life expectancy once diagnosed is 6-9 months, and the standard of care has not changed in over 60 years.
Jace held on for 25 months, all the while speaking nationally to raise awareness of the disease. His story and impact has helped raise millions of dollars to help newly diagnosed children.
The Live Free event will feature a 5K run/walk starting at the Wamego Sports Complex, as well as a co-ed Corn Hole Tournament, yard games, inflatables for the kids, food vendors, children's carnival games, horse and carriage rides and more. There is also a planned memorial lantern launch for dark to honor those that have either lost loved ones or are battling illness or addiction. A fireworks display will follow.
Priority registration is active until Tuesday, June 14, for the Corn Hole Tournament and Day Passes. Costs include a commemorative T-shirt. The 5K priority registration continues for another week after.
You can register here.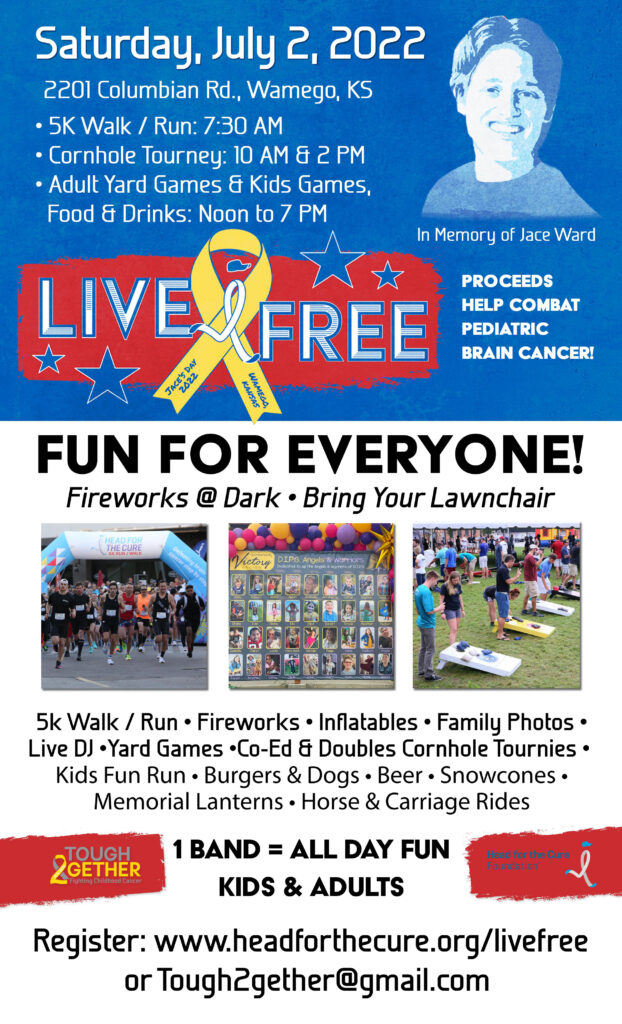 Comments
comments