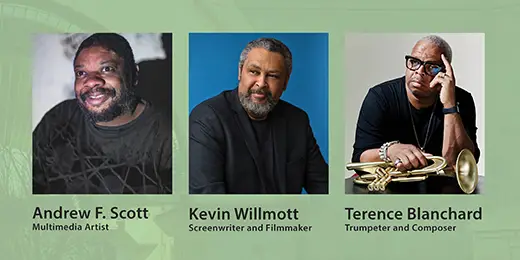 McCain Auditorium is hosting two events next week in conjunction with the Marianna Kistler Beach Museum of Art.
These events are related to the Gordon Parks exhibit titled Homeward to the Prairie I Come, on display through May 28 at the museum. Beach Museum Director Linda Duke says McCain Auditorium Director Todd Holmberg wanted to include community events to incorporate with this exhibit.
"Todd has for a long time wanted an opportunity to bring jazz great Terrance Blanchard to perform at McCain. He will be performing a free live concert with his band, the E-Collective," Duke said.
Blanchard is a six time Grammy Award winning trumpeter and composer. He will also be joined Thursday, April 7 by Turtle Island String Quartet; a group he has collaborated with and composed for.
The night before the concert, on Wednesday, April 6, Blanchard will meet with high school and university students for an education residency. He will then be joined by two other black artists for a public conversation later that night. The event is titled Art Matters: Three Artists Reflect.
"One is Andrew F. Scott, a multimedia artist who collaborates with Terrance quite often and is based at the University of Texas-Dallas and the other is Kevin Willmott, who teaches film studies at KU," she said.
Duke says all three speakers will discuss how to make a more just society.
"The link really is that, early in his career, Gordon Parks wrote a book called A Choice of Weapons, and that book was about his decision to use his artistry to fight racism and bias and improve the world," she said.
Willmott was on stage with Spike Lee at the 2019 Academy Awards, when they won the Oscar for best adapted screenplay for the motion picture BlacKkKlansman. The film was also nominated for Best Picture that year, along with four other awards. Blanchard wrote the score for the film and was nominated for best original score.
The free public conversation will take place in person and on Zoom Wednesday at 7 p.m., followed by the concert Thursday night at 7:30 p.m. The concert performance is free, but tickets are required to get in. They can be obtained by calling the McCain Box office at 785-532-6428.
The post McCain, Beach Museum to host artists as part of ongoing Gordon Parks exhibit appeared first on News Radio KMAN.
Comments
comments