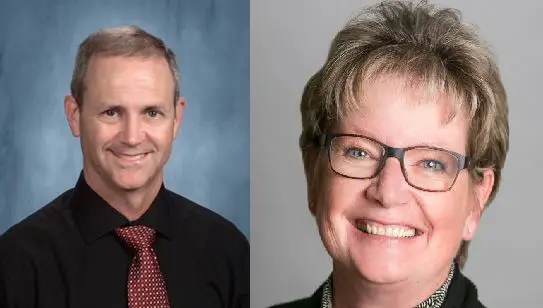 Two new superintendents are taking over at Rock Creek and Wamego Public Schools this fall.
Both made their debut appearance Wednesday on KMAN's In Focus. Current Lansing High School Principal Rob McKim was hired Jan. 31 by the Wamego School Board. The Kansas native has spent most of his life involved in education.
McKim will begin training with the district June 14 before his official start date of July 1. He says at first, his goal is to listen and learn about the district and the community. He says in order to help foster an effective learning environment he'll work on emphasizing the importance of creating connections between students and administrators throughout the schools.
McKim is succeeding interim superintendent Greg Mann, brought on by the USD 320 school board last year following the abrupt resignation of former superintendent Tim Winter, who now works with Geary County Schools.
Joan Simoneau will finish up her current duties as superintendent and elementary principal at USD 369 Burrton before stepping into her role at USD 323 Rock Creek Schools. While not originally from the Midwest, Simoneau did earn her teaching degree at the University of Nebraska and has spent all but one year of her educational career in Kansas.
Simoneau says Rock Creek is a vastly different district than Burrton, primarily due to its rapidly growing student population. She says she's already anticipating what that will mean for her as superintendent.
She also stressed plans to emphasize the importance of open communication in order to continue maintaining the district's success.
Simoneau succeeds Kevin Logan, who had been with the district since 2016, but was hired as the next Hesston USD 460 superintendent.
Simoneau begins her duties officially with Rock Creek on July 1.
Comments
comments