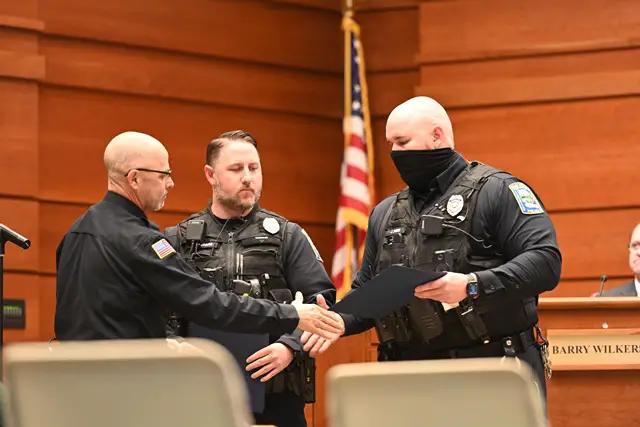 Two Riley County Police Department officers were publicly recognized at Tuesday's Law Board meeting for compassion they showed to a family in distress, after a mother of four died last summer of an accidental drug overdose.
Interim RCPD Director Kurt Moldrup read a letter of appreciation to Officer Jesse Shane and Officer Jonathan Shepard and their families. The two officers learned from the father that he had been struggling to take care of his wife as she battled addiction, in addition to their four kids. They also learned that the children had no clothing or school supplies for the upcoming school year and pooled their resources together.
Moldrup says when the items were delivered, the children were visibly overjoyed and the father was overcome with relief that he didn't have to worry about getting those necessities while also planning a funeral.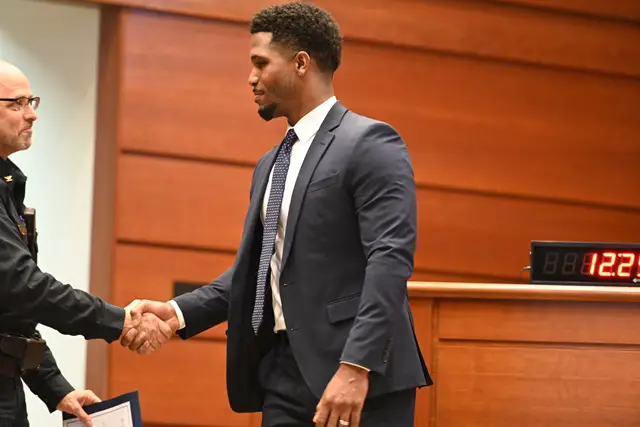 Another officer was recognized Tuesday for helping a suicidal woman seek mental health treatment after responding to a call last May.
Officer Joshua Berard was assigned as primary negotiator with the woman, who sat in her car with a firearm. The negotiations ended peacefully after nine hours as Berard used specialized negotiation skills and tactics. RCPD Interim Director Kurt Moldrup says that's just the beginning of the story.
Officer Berard received the commendation award at the February Law Board meeting. It's not the first time he's gone above and beyond the call of duty.
In October 2019, he was recognized for helping a Flint Hills Job Corps student caught trying to shoplift a pair of pants. In 2020, he worked with Shepherd's crossing and the Greater Manhattan Community Foundation to replace a stolen bike for a special needs individual.
Law Board member Robert Ward spoke about Berard's character.
The Law Board meets once a month, typically on the third Monday of the month. It meets on the third Tuesday in January and February due to the Martin Luther King Jr. and Presidents Day federal holidays.
The post RCPD officers recognized for compassion, service at Law Board meeting appeared first on News Radio KMAN.
Comments
comments