Some shakeups to legislative districts in the Manhattan area could be on the horizon if the current map under consideration gets approval.
The most notable change is that of 51st District Rep. Ron Highland (R-Wamego) who would absorb a portion of Manhattan, within 66th District Rep. Sydney Carlin's district, which has grown by 8,000 people, according to 2020 Census data.
Highland joined KMAN Friday for our series of weekly legislative updates with local lawmakers. (Listen to the full interview at the bottom of the page.)
The growth in Carlin's (D-Manhattan) district occurred primarily due to Kansas State University students now being counted in the Census.
Highland loses Northern Lyon County and his portion of Shawnee County under the new map, but retains the Hwy 24 corridor between Manhattan and Wamego and all of Wabaunsee County.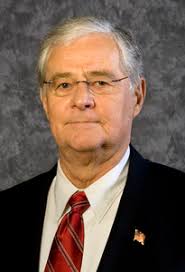 It could re-shape the 51st district somewhat, given that Carlin has maintained the more liberal-leaning district for many years.
The rest of Manhattan would remain mostly the same, however Carlin also loses the area north of Marlatt Ave. and around Tuttle Creek Lake, which would be absorbed by 64th District Rep. Suzi Carlson, of Clay Center.
67th District Rep. Mike Dodson (R-Manhattan) also loses some of his territory north of Manhattan to Carlson.
61st District Rep. Francis Awerkamp (R-St. Marys) would absorb Highland's current Shawnee County territory and would represent the primarily rural portion of Pottawatomie County north of Hwy 24 and east of Wamego.
The map also shows that 68th District Rep. Dave Baker (R-Council Grove) would absorb Ogden and areas primarily west of K-177 in Riley County into his district. (See the current map proposal below.)
Highland says several bills are being considered in the House Taxation Committee, which he sits on.
Perhaps the one garnering the most attention is the proposal to lower and possibly remove the sales tax on groceries, proposed by Gov. Laura Kelly and supported also by Attorney General Derek Schmidt, her opponent in the upcoming November election.
But the approach to lowering that has become a bit of a sticking point politically. Gov. Laura Kelly's proposal was a complete removal of the 6.5 percent sales tax to zero by this year. The current House proposal slashes it to 3.5 percent starting July 1st.
Highland tells KMAN that rate could be reduced further in future years, depending on cash balances left in the Legislature's rainy day fund.
Highland expects the measure to be approved as is, despite a likely veto. He also says municipalities will soon learn the local impact of the tax cut.
The Senate tax committee also has advanced its own plan (SB 339), cutting the sales tax on food to zero by 2024, but it has other tax cuts that Kelly does not favor.
Friday's Legislative Update with State Rep. Ron Highland (R-Wamego)
The post Redistricting map would move Highland into east Manhattan, southern Riley County appeared first on News Radio KMAN.
Comments
comments