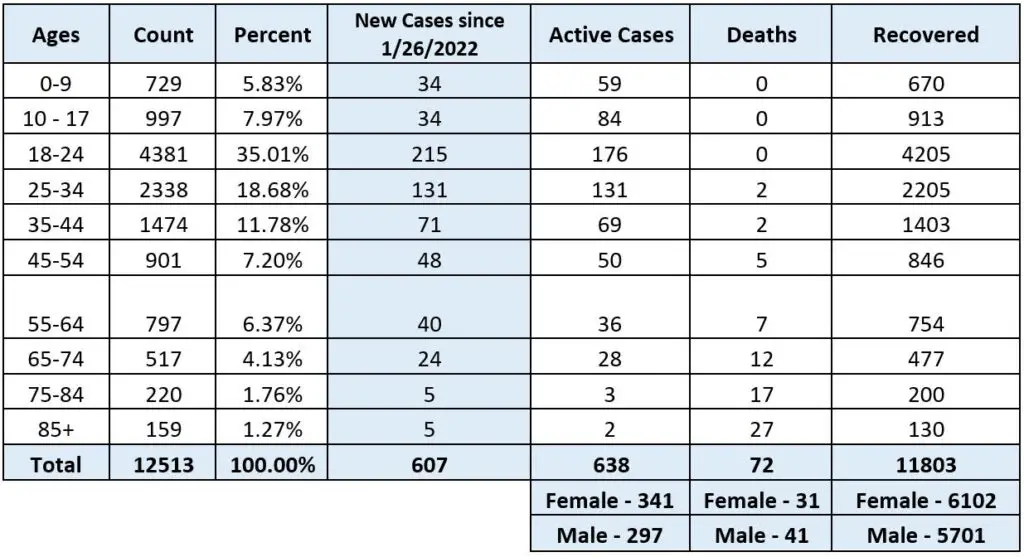 Riley County appears to be on the downhill side of the omicron surge.
New COVID cases last week totaled 607, nearly 300 fewer cases than reported the week before. There are 638 active cases in Riley County, a decrease of nearly 350 active cases since last week. The two-week rolling percent positivity rate fell from just over 24 percent to slightly under 18 percent for the current period.
As of Wednesday, Ascension Via Christi was caring for 11 COVID-positive patients including three on ventilators and four within the Intensive Care Unit.
The new indoor KDHE testing site is now open at 3019 Anderson Avenue in the Plaza West Shopping Center.
Riley County COVID-19 Statistics for February 3, 2022
Total positive cases in Riley County Residents: 12,513
Total active: 638
Total recovered: 11,803
Total deaths: 72
Percent Positive
Two-Week Rolling Percent Positivity Rate: 17.84%
Tested Positive: 1,018
Tested Negative: 4,688
Total Tested: 5,706
Week 3 (January 16 – 22)  21.57%
Total Positives: 682
Total Tested:   3,162
Week 4 (January 23 – 29)  13.21%
Total Positives: 336
Total Tested:   2,544
The post Riley County COVID cases in decline; new indoor testing site officially opens appeared first on News Radio KMAN.
Comments
comments