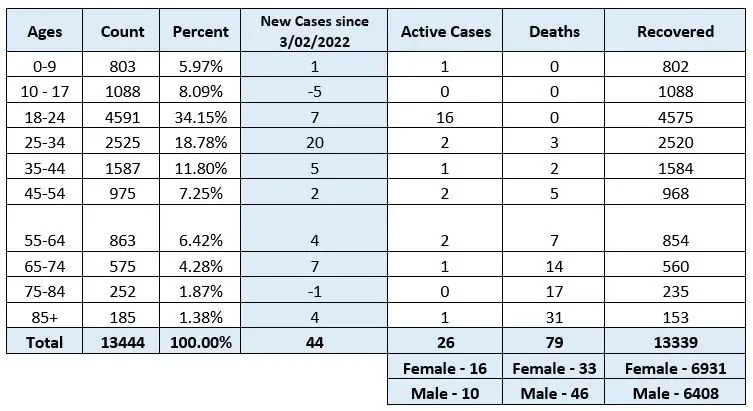 The Riley County Health Department says it has confirmed 47 new COVID-19 cases in the past two weeks, while also recording 64 recoveries.
The dwindling numbers continue as there were just 26 active cases Wednesday and three COVID positive patients in the hospital, including one in the ICU. The two week rolling percent positive rate fell to 2.87 percent, which is a drop from 6.85 percent the previous two week period.
Despite the drop in the community transmission rate, Riley County will return to publishing weekly COVID updates on Wednesdays beginning March 23.
Those updates will be in a different format, to be more consistent with the CDC data shared in the nationwide Community Levels tool.
Riley County COVID-19 Statistics for March 16, 2022
Total positive cases in Riley County residents: 13,444
Total active: 26
Total recovered: 13,339
Total deaths: 79
Percent Positive
Two-Week Rolling Percent Positivity Rate: 2.87 %
Tested Positive: 47
Tested Negative: 1,588
Total Tested: 1,635
Week 9 (February 27 – March 5): 3.86%
Total Positives: 32
Total Tested: 830
Week 10 (March 6 – 12): 1.86%
Total Positives: 15
Total Tested: 805
The post Riley County COVID transmission rate falls below 3% appeared first on News Radio KMAN.
Comments
comments