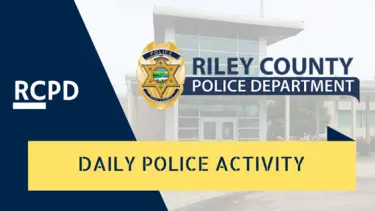 Douglas Green Jr. was arrested in the 800 block of Elm St. in Ogden, Kansas on May 18, 2017 at approximately 5:15 PM. Green Jr. was arrested for driving while suspended and driving while a habitual violator. Green Jr.'s bond was set at $5,000.
Officers filed a report for rape, aggravated battery, and aggravated burglary in northeast Manhattan on May 18, 2017. Officers listed a 16 year old female as the victim when she reported that a suspect known to her forced his way into her residence and raped her. Due to the nature of the crimes reported, no additional information will be released.
The post Riley County Police Department Daily Activity Report 5/19/2017 appeared first on News Radio KMAN.
Comments
comments