The Flint Hills Breadbasket is holding their 27th annual "Take a Swing at Hunger" golf tournament.
The Flint Hills Breadbasket is a community food network that was founded inside a small shed which housed machinery for the city of Manhattan in 1983. Since then, they have grown and continue to offer much needed food assistance through community donations and volunteer support.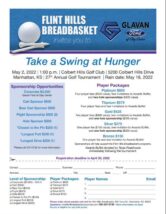 The golf tournament is one of their largest fundraisers and allows them to continue providing assistance to those in need throughout the community.
The "Take a Swing at Hunger" golf tournament is a four player scramble. Player packages are available starting at $150 a player, which includes golf fees and an invitation to the awards buffet donated by Texas Roadhouse immediately following the tournament.
Tournament is set for May 2 beginning at 1 PM at Colbert Hills Golf Course. Check out the Flint Hills Breadbasket Facebook page for more information.
The post Take a swing at hunger with the Flint Hills Breadbasket appeared first on News Radio KMAN.
Comments
comments