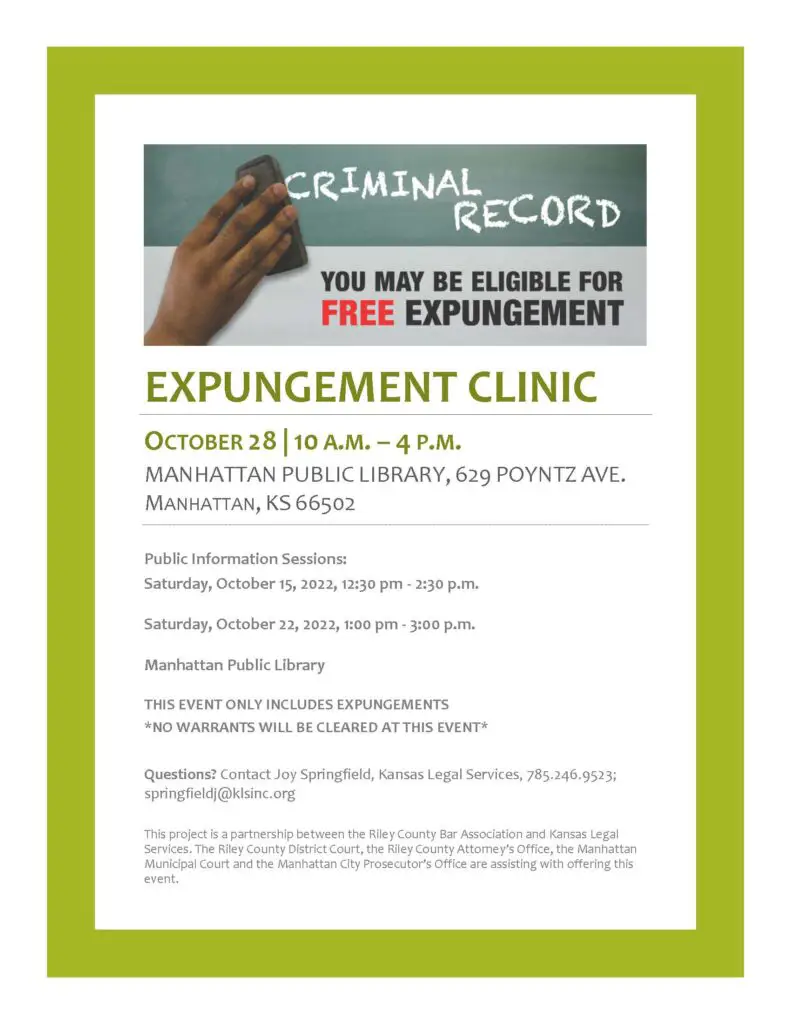 Riley County residents looking to clean up their criminal record are invited to a free expungement clinic at the Manhattan Public Library Friday.
Attorneys will be on hand to help individuals review if they have any convictions that can be expunged. Deputy Riley County Counselor Craig Cox says there will be a prosecutor available from the County Attorney's office as well as a judge.
"A person can walk in and we'll review the criminal history. Depending upon the nature of the conviction, for most misdemeanors you have to wait three years after you've completed your sentence. For most felonies, it's a five year wait and for most serious driving violations, it's a one year wait," he said.
In many cases, past criminal convictions can hamper a person's ability to gain employment, or in some instances prevent them from getting an interview. In some instances, a past driving violation can also prevent someone's ability to renew a driver's license.
The event is open for anyone with past convictions in Riley County District Court or Manhattan Municipal Court. All court costs are being waived. Cox says it's helpful if residents can bring previous conviction records with them or at least some knowledge of their conviction.
"If nothing else, the knowledge that they had a conviction here, their name and an approximate time period, and an ID," he said.
The event runs from 10 a.m. to 4 p.m. at the Manhattan Public Library. The project is a partnership between the Riley County Bar Association and Kansas Legal Services, with assistance from the Riley County Attorney's Office, Manhattan Municipal Court and the Manhattan City Prosecutor's Office.
The last time Riley County hosted an expungement clinic was in 2018 and Cox says they had an estimated 30 people show up then. For more information, contact
Kansas Legal Services
.
Comments
comments