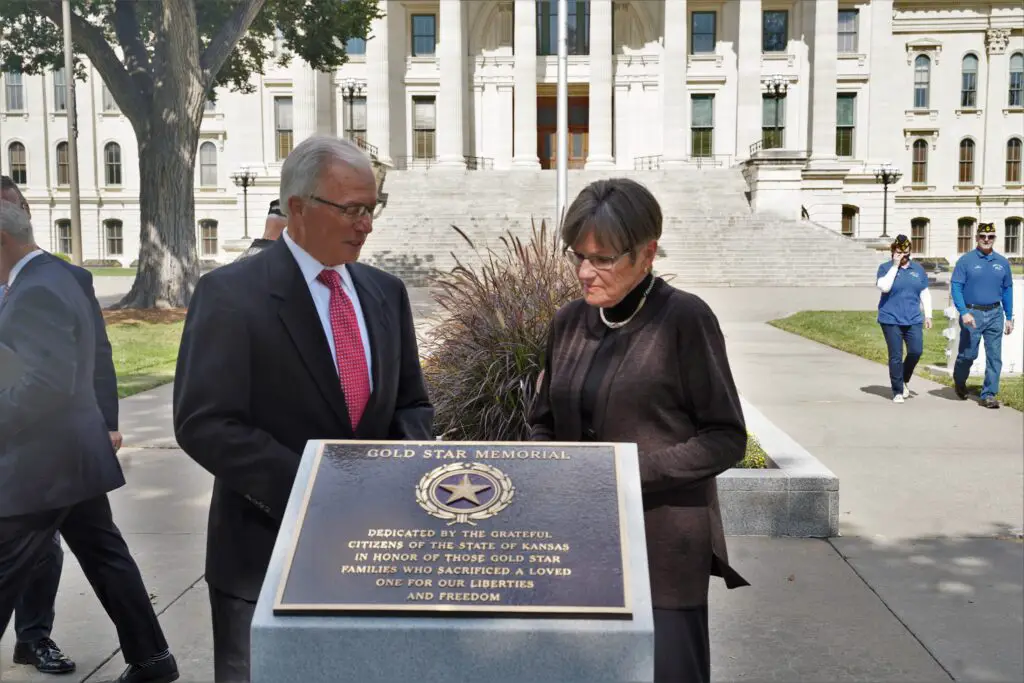 A new permanent monument on the grounds of the Kansas State Capitol will recognize Gold Star Families.
The monument was unveiled at a Friday ceremony, with Gov. Laura Kelly, Executive Director of the Governor's Military Council Lt. General Perry Wiggins, as well as State Senators Tom Hawk and Jeff Longbine on hand. The monument honors the families of more than 6,500 fallen service members who died while serving in a time of conflict.
Gov. Kelly thanked the legislature for passing Senate Bill 330, which allowed for the memorial's construction, saying it fulfilled a challenge by late Marine Corps Warrant Officer and World War II Medal of Honor recipient Hershel "Woody" Williams, who challenged her to have a memorial erected on the Statehouse grounds.
Gen. Wiggins says the memorial "stands as a symbol of the grateful citizens of the State of Kansas wrapping their arms around and honoring our Gold Star Families who sacrificed a loved one for our liberties and freedom."
Sen. Hawk says the memorial "honors unsung heroes— the families of service members fallen during military conflict— for their service to the U.S. military."
Comments
comments