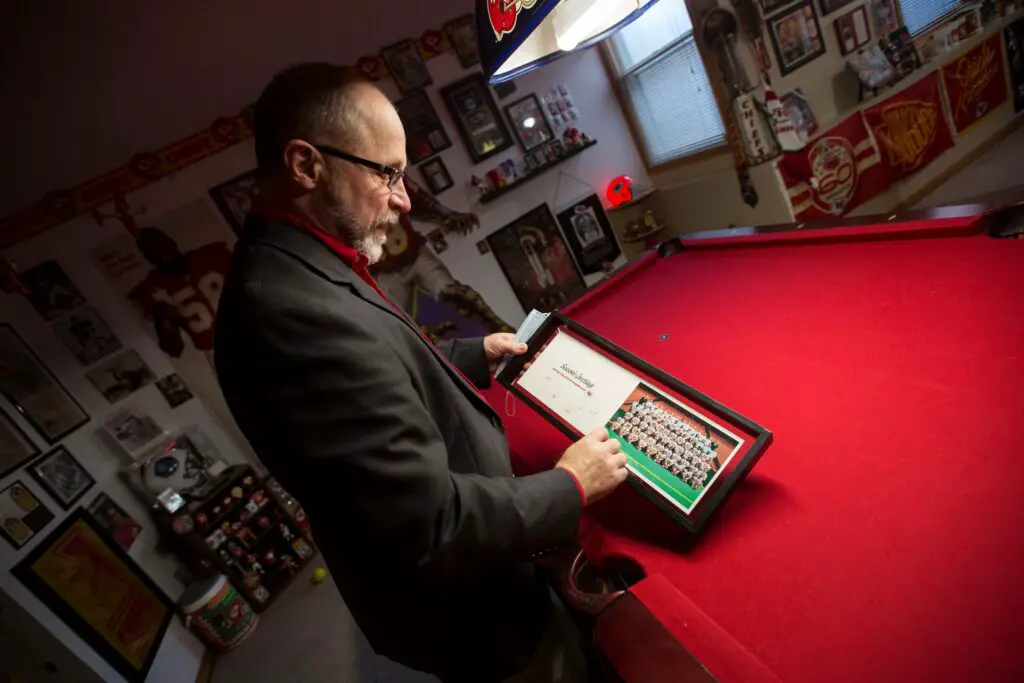 A Manhattan man's collection of Kansas City Chiefs memorabilia is now the Guinness World Record holder for the largest collection in the world.
Curt Herrman, who began collecting random Chiefs items following the teams win in Super Bowl 4 at the age of 9, has grown his collection, now known as the Chiefseum, to a record-setting 1,110 total items.
"When I got the first world record, almost two years ago, the record was 642. Since then, I've had people sending me stuff, giving me things and so now it's doubled (in size) in the last two years," he said.
The collection now totals almost 1,400 items.
Herrman, who is the current president of the Manhattan-Ogden School Board, says he had been applying to Guinness for two years about becoming the record holder, after getting recognition from another organization. He faced rejection from Guinness initially, before finally getting the approval late last week.
When documenting his collection, Guinness required Herrman to have three witnesses, including a police officer and an elected official. He enlisted the services of RCPD Interim Director Kurt Moldrup, State Sen. Tom Hawk, Bernie Haney, statistician for the Chiefs Radio Network and local accountant Darren Rumford. Herrman says he appreciates the rigorous process that Guinness holds its record holders to.
"It isn't like I could just tell them I had the record. I had to send a picture of every single item. I had to include a copy of my database, a copy of my insurance and I also had to take pictures from various angles of my collection," he said.
He also recalls recording a video with his witnesses nearby.
"I had to do a video of me literally standing there going 1, 2, 3, 4, 5, 6…. all the way through to the last item," he said.
Herrman will be presented a plaque from Guinness at some point in the near future and will be included in the 2023 publication of the Guinness Book of World Records.
The collection has no duplicates and anytime he receives a duplicate, Herrman gives it to others for their collections. It includes a plethora of valuable items dating back to the team's inception as the American Football League's Dallas Texans.
"I have a really rare gameday program, the first game that the Dallas Texans ever played in September 1960, and they played the LA Chargers," he said.
One of Herrman's favorite pieces in the collection, is a nod to late Chiefs linebacker Derrick Thomas.
"In 1994, there was a Coca-Cola Monsters of the Gridiron campaign and they made cardboard stand-ups. I have a 6 foot tall Derrick Thomas attack cat. It's a 1-of-1, I've never seen another one," he said.
Herrman says he hopes the Chiefs themselves will take notice someday.
"That would be a dream come true," he said.
While the collection primarily focuses on past players rather than current, Herrman says he has made some exceptions, including for current Chiefs quarterback Patrick Mahomes.
Comments
comments