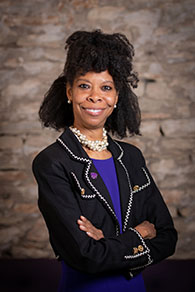 Kansas State University has named its inaugural vice president for diversity, equity, inclusion and belonging.
Rana Johnson will assume that role Dec. 1, coming to Manhattan from Indiana State University, where she serves as associate vice president for inclusive excellence and strategic initiatives. Her resume includes similar roles at Unity College in Maine as well as leadership roles with the Kentucky Council on Postsecondary Education.
In a Tuesday news release, K-State officials noted Johnson will be the university's senior executive responsible for guiding practices and creating opportunities to define, assess and promote inclusive excellence across all aspects of university life. Johnson will provide strategic vision and leadership to effectively integrate diversity, equity, inclusion and belonging into the work and culture of the university. Her other primary responsibility will be developing, overseeing and managing K-State's new Division of Diversity, Equity, Inclusion and Belonging.
The university previously established the office of diversity and inclusion as a cabinet-level position. Dr. Bryan Samuel was the first chief diversity and inclusion officer, before leaving K-State for a similar position at the University of Texas at Arlington in 2021.
Comments
comments