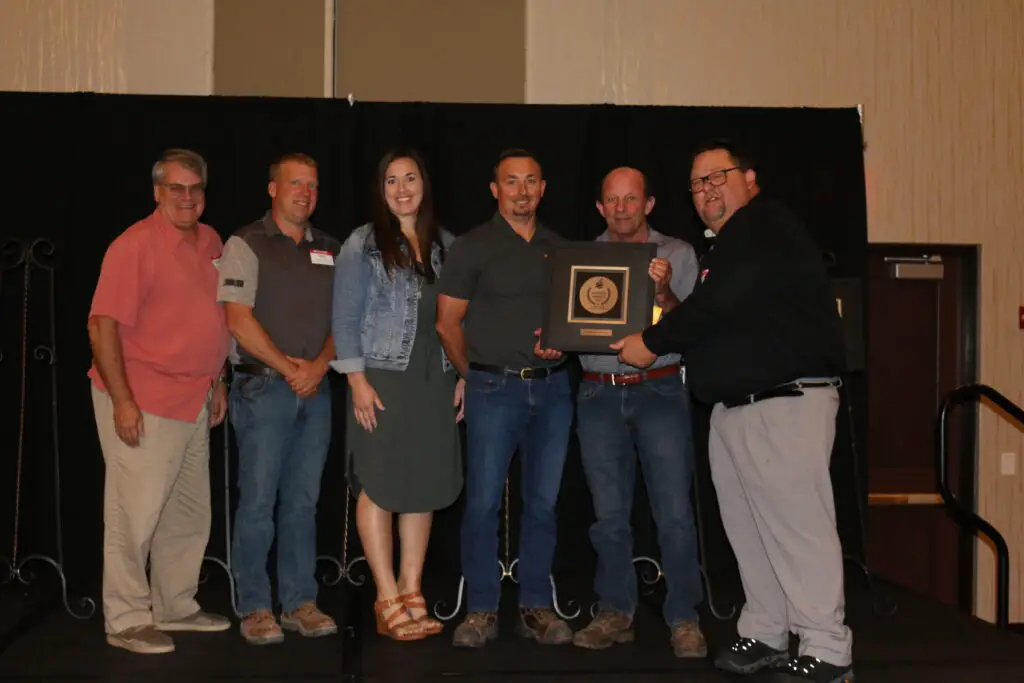 Manhattan area businesses were recognized Tuesday at the annual Business Awards, hosted by the Manhattan Area Chamber of Commerce.
A total of 16 businesses were recognized at the event, held over the lunch hour at the Manhattan Conference Center. Midwest Concrete Materials took home Business of the Year. The company played a key role in developing the site that will be the future home of Scorpion Biologics. Owner Chris Eichman shared remarks at Tuesday's event.
The Small Business of the Year Award went to Anderson Knight Architects, a company founded in 2002 by Tracy Anderson and Dan Knight. Anderson thanked the Chamber for the recognition.
Knight echoed the sentiments of his business partner.
SPS Companies took home this year's Cornerstone Award, for its nearly 90 years of operation in Manhattan. Company Board Chair Dennis Mullin says the company got its humble beginnings almost by accident in 1927, as the Kansas Hide and Wool Company, at 2nd and Osage.
Mullin says that same community spirit that attracted Sam Goldstein is what lures people to the Manhattan region today, saying none of the company's current employees came here because of SPS Companies.
SPS Companies became the third winner of the Cornerstone Award, following Manko Windows in 2021 and BHS Construction in 2020.
Other awards handed out Tuesday included recognition of the Women/Minority Owned Business of the Year. MHK Play Studio was the 2022 recipient. Owner and founder Kasey Wilkinson says she never dreamed that opening a business right before a global pandemic would lead her to the award stage.
The Tourism and Hospitality Award went to the Midwest Dream Car Collection. Executive Director Chris Gergeni expressed his gratitude for the honor.
The award for Entrepreneurial Spirit went to Back Nine Development and owner TJ Vilanskas. None of the business members were in attendance at Tuesday's event.
This was the third year for the Business Awards, which launched in 2020. Chamber President and CEO Jason Smith says it's his favorite event of the year.
Criteria were established for each award and nominations were taken. A committee evaluated each nomination and decided winners based on those businesses that most matched the criteria.
Comments
comments