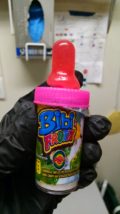 The Wamego Police Department Tuesday received a report from several citizens of candy that was possibly tainted. The candy is in the shape of a small baby bottle and is labeled "Bibi Frutix" and according to the label was made in Mexico. A photo is on our website at newsradiokman.com. While this is an isolated report it is unknown where the candy has been distributed as the candy was not purchased at a local store.
The powdery substance – normally sugar – has not been analyzed at this time. However several people who sampled contents reported the powder had a chemical taste and two people had adverse reactions. Wamego Police indicate anyone who has this labeled candy should take appropriate actions for their safety and may contact their local law enforcement agency if they have questions.
The post Wamego Police report possible tainted candy found appeared first on News Radio KMAN.
Comments
comments