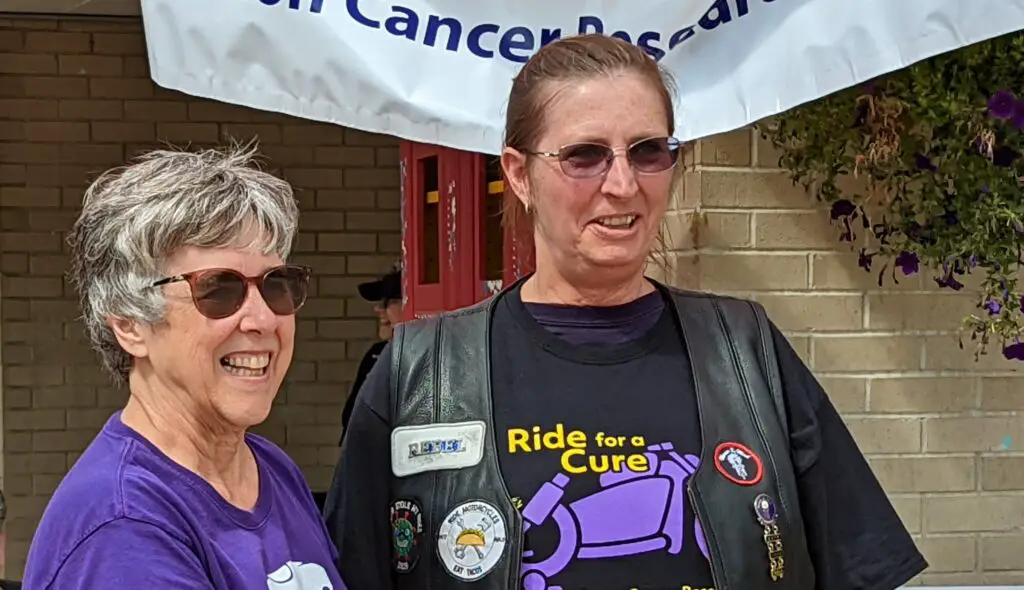 K-State's Johnson Cancer Research Center capped off a week of cancer research week events Saturday with the Ride for a Cure fundraiser ending at the Manhattan Arts Center.
Attendance was lower than anticipated for the motorcycle ride amid rainy, thundering conditions in the morning, but a small group endured and set off riding North out of the rain to Olsburg before looping back through Leonardville and Riley on their return.
"It was just beautiful," says Christine Guillory, riding with friends and fellow members of the Women in the Wind motorcycle club. "Started off a little bit rough, but in the end it was just like it should be – it was a fun ride."
Guillory was also the highest fundraiser, collecting $800 of the estimated $1,500 donated to the ride. She called the event 'amazing.'
"We try to help out women in need."
The Ride for a Cure was just one of numerous events organized this week by the JCRC, which started with an Open House on Monday, September 12, and continued through to the 24th Annual Rob Regier Memorial Golf Tournament on Friday, September 16 which brought in tens of thousands of dollars to the center.
Director Sherry Fleming says in addition to the fundraising, the week served as an opportunity to spread awareness of the organization and the research it conducts.
"We've been here for 40 years, we have about 80 researchers across campus that are doing basic science research," Dr. Fleming says.
The JCRC works collaboratively with multidisciplinary faculty and student researchers to identify foundational knowledge necessary in better preventing, diagnosing and treating cancer.
Part of the week featured the Bascom Lecture Series, this year welcoming Tulane Cancer Center Director Prescott Deninger for a duo of presentations on and off campus.
"It's amazing to have the community's support," Dr. Deninger says. "It's so motivating for researchers to know the community appreciates them, help them [in]generating the kind of money they do – flexible dollars they can use that aren't tied to grants."
A final tally of fundraising numbers for the week is pending.
Comments
comments