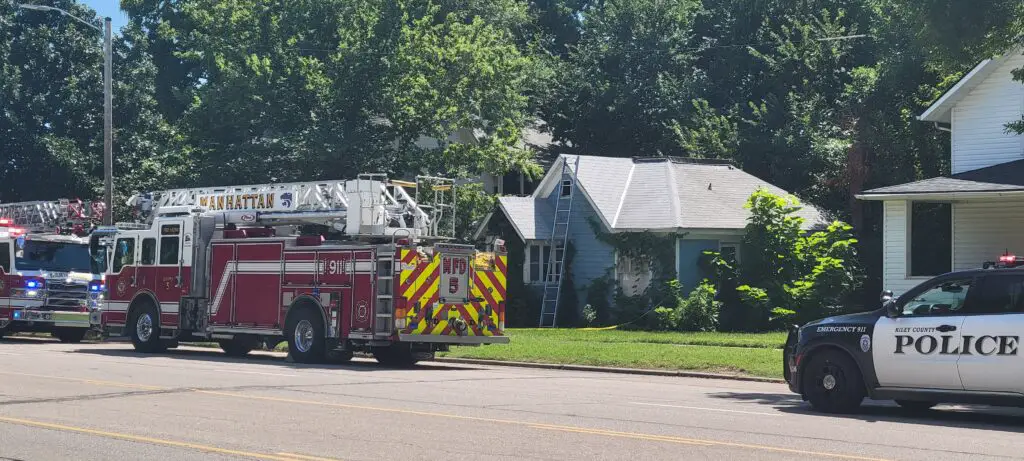 Fire scorched a Manhattan home Saturday and initial reports suggest it's likely a total loss.
The Manhattan Fire Department was called out just before noon Saturday to 1209 Poyntz Ave. No injuries were reported. Assistant Fire Chief Sam Dameron tells KMAN that when crews arrived, they found smoke billowing out of the windows of the single story wood-framed structure.
"Upon entry into the structure, they found a small fire in the living room area with heavy black smoke. They quickly extinguished the fire and ventilated the structure, did a search of the structure and found no one was home at the time of the fire," he said.
Dameron says the home sustained a significant amount of smoke and heat damage.
"Smoke was banked down just about to the floor when they made entry. It's a little bit early to tell, but more than likely the structure will be a total loss," he said.
Total damage is estimated at $31,000, including $10,000 to contents and $21,000 in structural damage.
Property records show the home, which has been converted into apartments, was built in 1910 and is owned by Vincent Rucker and Lawrence Budenosky, who live adjacent to the property. 
Comments
comments