An Iowa couple celebrating their wedding anniversary gave a waiter a $100 tip on a $66 order even though they received "'terrible service".
One waiter had to serve 12 tables and be the bartender all by himself. The couple said they waited 20 minutes for water, 40 minutes for an appetizer and an hour for their meal.
Several customers left while another ran up to a friend at the entrance and said not to eat their.
The couple both worked as servers. They left the tip and a note that read, "We've been in your shoes. Paying it forward."
The couple put the receipt on Facebook where it has received over 1 million likes and shared almost 168,000 times.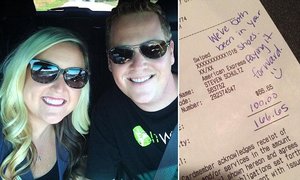 Read more here!